Students relax with reptiles ahead of exams
Release Date 07 May 2015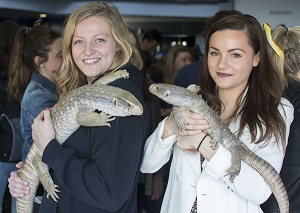 Bearded dragons, snakes and monitor lizards. Not regular visitors to UK universities but these and other creatures were on Reading's Whiteknights campus last week, calming the nerves of students ahead of exams.
Organised by Reading University Students' Union (RUSU) the reptile zoo also included miniature tortoises and creepy crawlies. Hundreds of students gathered for a chance to hold these wonderful creatures, which proved a great distraction before they begin grappling with stressful exams and coursework deadlines.
More than ever, students are feeling the pressure of doing well at university as this year marks the first year of students graduating who have paid £9,000 a year fees. The reptile zoo was part of a wider RUSU campaign - 'RUSU Says Relax'. A series of events and activities has been scheduled throughout the summer term as part of the campaign, including a mobile farm, meditation and tai chi sessions, a comedy night and talks on managing exam pressure and getting a good night's sleep.
Tilly Corless, Welfare Officer for RUSU, and who organised the campaign, said: "Exams are the final push for the academic year that can either make or break a student's degree. Students who have invested money into their education are also investing time into their study in order to get the best possible result.
"However, the worry of the mounting stress among students is that it can impact the quality of the work, the effectiveness of their revision and their mental health. This year, Reading University Students' Union is taking a proactive approach to encouraging students to take healthy breaks from revision, thus increasing academic potential and overall wellbeing. I wish the best of luck to all Reading students as they approach their exams and would encourage them to get involved in some of the fantastic activities we have lined up."
Click here to see the full schedule of activities for the 'RUSU Says Relax' campaign.
[Picture - David Hartley]