University submits joint planning application for London Road buildings
Release Date 08 May 2015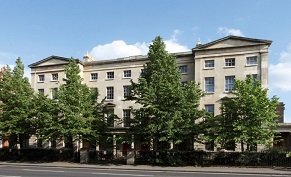 The University of Reading hopes to breathe new life into three historic buildings on London Road [Reading] by restoring them to their former grandeur.
The University has partnered with Thomas Homes, award-winning specialists in delivering sensitive heritage restoration projects, and a joint planning application has been submitted to Reading Borough Council to restore the early 19th century buildings.
The three listed properties, which adjoin the University's London Road campus, were once the home of the Japanese post-secondary education campus Gyosei International College (later known as Witan International College), which closed over 10 years ago.
The joint planning application is to redevelop the buildings into 53 high quality two bedroom apartments. The proposal also provides for improvements to be made to landscaped areas which face both London Road and the University's London Road campus.
If planning permission is granted, restoration work will start in early 2016 and is expected to take approximately nine months.
Christopher Reeve, Director of Estates Management for the University of Reading said: "Historic buildings like these are important in helping to contribute to Reading's identity, and are vital in creating a sense of heritage. Whilst major restoration projects like these can be challenging, we are confident that Thomas Homes will restore these important historic buildings to their former glory."