New campaign to support research into teenage depression
Release Date 12 May 2015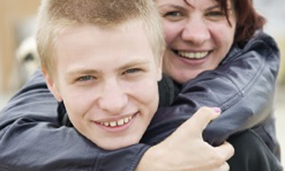 At the start of Mental Health Awareness week the University of Reading has launched a new campaign to support novel research into a new treatment for teenage depression, and to highlight the lack of global research in this area.
The Charlie Waller Fundraising Appeal aims to raise money to further test and develop Brief Behavioural Action (BBA), a pioneering new treatment which could transform the lives of thousands of young people with depression.
Depression will affect around 15% of young people before they are 18 years old. It interferes with school, family, friendship groups and social events and is associated with self-harm and suicide. Most teenagers with depression are not properly identified and do not receive effective treatment.
Brief Behavioural Action
Until now, there has been very little research globally into depression and teenagers. BBA aims to give teenagers the tools to improve their mental health by making small but powerful changes in their behaviour. Clinicians work one on one with teenagers to help them think about what they want from life and encourage them to do more of what matters most to them.
These clinicians are specially trained to work with teenagers and the issues they may be facing. BBA helps them to focus on the simple changes that can turn around a downward spiral and break the vicious cycle of depression.
BBA is a proven treatment for adults suffering from depression but a new concept for treating younger people. The CWI recently completed a brief pilot study of BBA. After eight weeks of treatment, 70% of the patients showed significantly reduced symptoms. This compares to 50% improvement in symptoms within 12 weeks for other psychological and medical treatments.
Professor Shirley Reynolds commented: "I came to work at the Charlie Waller Institute to research and develop effective treatments. Here we have an onsite NHS clinic and team of researchers working alongside clinicians. It's a unique environment in which we are developing a new treatment specifically for teenagers with depression. Our initial studies are extremely encouraging - not only are we treating people right now, but we can eventually help prevent more families from suffering."
How gifts will be used
The University's fundraising department, the Campaigns and Supporter Engagement Office, is seeking donations from a range of alumni and other supporters. Gifts will be used to:
Run classroom testing sessions to help identify teenagers who have problems with low mood
Follow up teenagers who have mood problems to assess them fully for depression
Offer Brief Behavioural Activation to suitable young people at their school
Provide support for teachers and parents to support young people with low mood and depression
Train teachers to support teenagers to use Brief Behavioural Activation
How to donate
If you would like to make a donation click here
For more information about the fundraising campaign visit the campaign webpage
Charlie Waller Institute partners
Berkshire Healthcare NHS Foundation Trust
Improving Access to Psychological Therapies