University shows its support for IDAHOBiT
Release Date 15 May 2015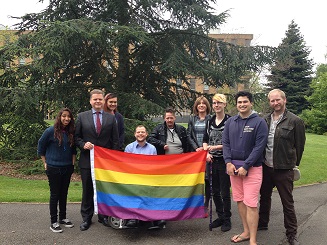 A flag-raising ceremony took place today on Whiteknights campus to mark International Day Against Homophobia, Biphobia and Transphobia (IDAHOBiT), which is to be celebrated internationally on Sunday 17 May.
The University of Reading, as a member of the Stonewall Diversity Champion's programme, is proud to be flying the rainbow flag in support of gay, lesbian, bisexual, and transgender equality.
Professor Robert Van de Noort, Pro-Vice-Chancellor (Academic Planning and Resource) opened the ceremony and said: "The University is seeking to continue the legacy of its former Vice-Chancellor, Sir John Wolfenden, by promoting diversity and tolerance in its research, teaching, and support for all who work and study here."
The ceremony was one of a series of events organised throughout April and May by Reading University Students' Union (RUSU), as part of its Bi-Awareness campaign 'We Exist'. A panel discussion, 'Exploring whether the LGBT+ Movement is truly inclusive?', took place immediately following the flag-raising ceremony, marking the last of these events.
Tommy Snipe, RUSU's LGBT+ Officer said: "The celebration of occasions such as IDAHOBiT is of great importance to the LGBT+ movement. Not only does it allow us to recognise the strides we have made in terms of LGBT+ rights, but it also gives us a platform to say what more we have to do and inspire future LGBT+ activists."
Earlier this year, RUSU won an award for 'LGBT Event of the Year' at this year's National Union of Students LGBT+ Conference, for its month long celebration of LGBT+ History Month in February.
The flag is raised between the Library and Whiteknights House.
For further information please contact equalityanddiversity@reading.ac.uk