University to host weekend of music and festivities
Release Date 21 May 2015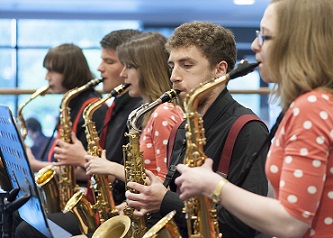 Get ready for a weekend of music and festivities hosted by the University of Reading on 6 and 7 June.
The University of Reading Chorus and Chamber Choir will make their debut at the Reading Concert Hall on Saturday 6 June, while the University's first ever Big Lunch event will take place at its historic London Road campus on Sunday 7 June.
Rebecca Ranson, who co-ordinates Music at Reading, said: "The University has a rich cultural heritage and our campuses are alive with activity all year round. Each summer the University showcases its very best in arts and music with special events to celebrate our talented students and staff across the institution.
"It's a great opportunity for us to connect with the local community and we hope to see many people joining us for these wonderful events."
Choral Gala at Reading Concert Hall
The University of Reading Chamber Choir and Chorus have joined forces for the first time to present this special evening of choral classics by Mozart and Fauré. Joanna Bywater will conduct the choir in what will be her last performance as Choral Director.
The Chamber Choir and Chorus will be made up of approximately 100 singers from the University staff and student body, as well as the local community. The University is especially proud that all the soloists will be drawn from our talented staff and students. The two soloists in Fauré's much-loved Requiem are final-year students Mark Bassett and Lydia Hart, who have been heavily involved with the Chamber Choir and Chorus since they arrived in Reading four years ago.
Date: Saturday 6 June
Time: 7.30pm
Venue: Reading Concert Hall
Admission: £13.50 or £9 for concessions / Available from Reading Arts
For further information, please click here.
Big Lunch at London Road campus
Last year, almost five million people took part in Big Lunches throughout the UK, a concept that is designed to encourage people to have lunch with their neighbours.
The University is looking forward to welcoming hundreds of Reading families and residents of all ages to this free event. Family-friendly games and activities will be organised, with live music provided by the wonderful University of Reading Big Band.
People are encouraged to bring their own picnic but food and drink will also be available to purchase from the University bar, Eat and Drink at London Road. An ale festival will also be taking place at the University bar over the weekend.
Date: Sunday 7 June
Time: From 12pm
Venue: London Road campus
Admission: Free
For further information, please click here.
To see all events organised by the University of Reading, please click here.