Reading moves up to 25th in Guardian University Guide 2016
Release Date 27 May 2015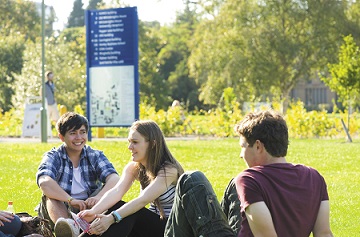 The University of Reading has moved up five places to 25th in the Guardian University Guide 2016, published yesterday.
It has been ranked sixth out of 16 institutions in the South East and above 10 institutions in the Russell Group.
The Guardian University Guide focuses on student satisfaction and services, rather than research quality as with other rankings. Key indicators include the latest National Student Survey; spending per student; student/staff ratio; graduate career prospects; and a value-added score based on average final degree results compared to entry qualifications.
The results come after Reading moved up eight places in the Complete University Guide published last month. The University also climbed to 22nd in the Times Higher Education Student Experience Survey 2015, published in April.
Other headline findings include:
Reading remains 22nd for spend per student and has risen 13 places to 26th for overall satisfaction, above the top 50 average.
Five subjects in their respective top 10s: Agriculture and Food (2nd), Design and Crafts (5th), Building & Town & County Planning (5th), Pharmacology & Pharmacy (7th) and Education (8th).
Nine subjects in the top 25% nationally in their respective fields: Pharmacology and Pharmacy (7th), Education (8th), Forensic Science and Archaeology (11th), Film Production & Photography (11th), Accounting and Finance (12th), English and Creative Writing (13th), Health Professions (16th), Business, Management & Marketing (22nd) and Psychology (26th).
Vice-Chancellor Sir David Bell said: "We have made good, steady progress in the second successive major league table this year. This reflects well on our continuing focus on improving the student experience.
"Our long-term strategy is clear; we need to be firmly embedded inside the top 25 institutions in the country. We are not there yet. However, we are moving in the right direction, thanks to the hard work of all our academic and professional support staff."
The University saw a 21% increase in undergraduate applications this year - 10 times the national increase in applications.
The University of Reading's next Open Days are taking place on Friday 19 and Saturday 20 June. To book your place, please go to: www.reading.ac.uk/getready