Professor Christopher Duggan
Release Date 06 November 2015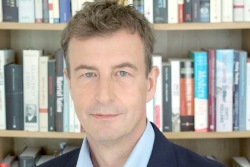 It is with great sadness that we announce the death of Christopher Duggan, Professor of Modern Italian History at the University of Reading. He was 57.
Professor Duggan was regarded as one of the world's leading experts on Italian history, and was an award-winning author and commentator on Italy's past.
After studying at Oxford, Professor Duggan joined the University of Reading in 1987, where he taught Italian history, politics, culture and language. He served several times as Head of the Department of Italian Studies, and was Head of the School of Languages and European Studies (later Literature and Languages) between 2008 and 2013.
Following the success of his most recent book, Fascist Voices: An Intimate History of Mussolini's Italy, which won the Wolfson Prize for History and was Political History Book of the Year at the Total Politics Political Book Awards, Professor Duggan was engaged in a major research project exploring the legacy of Italy's fascist past on its present-day politics and society.
In 2008, Professor Duggan was honoured by the Italian President as a Commander of the Order of the Star of Italian Solidarity - one rank above a Knighthood and one of the highest civilian honours given to non-Italians.
Sir David Bell, Vice-Chancellor of the University of Reading, said: "We are deeply saddened to hear of Christopher's death. He was an academic and a colleague of the very highest quality, with a deep love and understanding of Italy and a rigorous and fearless commitment to finding the truth.
"At a personal level, I got to know Christopher well over the past few years. I always enjoyed our discussions and I learned a lot as he willingly shared his deep and profound insights on all aspects of Italian society. He was a hugely impressive and cultured man and I am extraordinarily proud that he made Reading his academic home for almost 30 years. We will all miss him greatly."
The University will publish a full obituary shortly.
NOTES
Any media enquiries should be directed to the University of Reading press office on +44 (0)118 378 5757 or pressoffice@reading.ac.uk.