University of Reading completes sale of Shinfield West site
Release Date 26 November 2015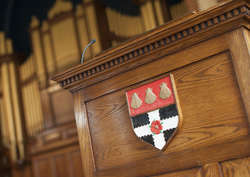 The University of Reading has completed the disposal of the Shinfield West development site to a consortium of house builders, including Bovis Homes, Linden Homes and Bloor Homes.
The site will see 1,350 new homes built across the 100 acre Wokingham Borough Council site, which is four miles south of Reading and lies west of Shinfield Village.
The sale proceeds, which will be paid over four years, will be invested in the University's long-term capital investment programme - teaching, learning and research facilities, as well as other projects, including the Thames Valley Science Park, which is due to open in 2017.
The Shinfield West site is part of a wider area, including Spencers Wood and Three Mile Cross, which has been designated as the South of the M4 Strategic Development Location (SDL).
Outline planning consent for the Shinfield West site, secured by the University in 2012, includes 150 specialist homes (for older residents, sheltered housing and other specialist housing), a new primary school, public open space and a new village centre, which will include a supermarket, shops and a community centre.
Sir David Bell, Vice-Chancellor of the University of Reading, said: "This is good news for the University's long-term ambitions, as well as boosting the regional and local economies and communities. The sale of this site will provide much-needed housing in Shinfield, as well as a new school and community centre. It will underpin our ongoing capital investment programme - meaning we have stable funding for frontline facilities for teaching, learning and research, as well as for the Thames Valley Science Park."
Kat Norton, Savills UK Director, National Development, said: "This is a fantastic achievement for the University, Savills and Blandy & Blandy. Our combined effort has meant that we have successfully secured the sale of one of the largest UK strategic sites in 2015."