From site to sight - new exhibition tells story of archaeological dig through artist's eyes
Release Date 15 October 2015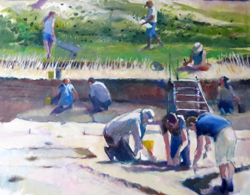 A new exhibition that offers a unique glimpse of life on an archaeological excavation is to go on display at The Old Fire Station Gallery, Henley-on-Thames, from Saturday 24 October.
Silchester - Life on the Dig, captures the final year of the University of Reading's 18 year excavation, The Silchester Roman Town Life Project - on one of the most celebrated Roman sites in Britain. Artist Jenny Halstead was invited by Professor Mike Fulford, from the University's Department of Archaeology, to spend nine weeks recording the life of the site including its setting-up, its workings and its treasures, through sketches and paintings.
Jenny Halstead said: "I arrived at the site last year with sketchbook in hand knowing very little about the procedures of archaeology. It was a fascinating experience. From tools, equipment and generators to portacabins, marquees and porta-loos - the grassy site was transformed into a lively, exciting and efficient working 'village'. It has been a wonderful project. I hope visitors enjoy the exhibition and experience some of the excitement, expertise and camaraderie that I felt during those nine weeks."
Silchester Roman Town has provided an unparalleled picture of Britain during its early Roman occupation. A new University of Reading project to uncover the town's Iron Age origins began this summer.
An exhibition, showing some of Jenny's sketchbook studies, is currently on display in the Hall/Staircase area of Special Collections at the Museum of English Rural Life, Redlands Road, until Friday 27 November 2015.
The full Exhibition will be at The Old Fire Station Gallery, Henley-on-Thames, RG9 2AG from Saturday 24 October - Tuesday 3 November 2015. It is open daily 10am - 4pm
An accompanying book, Silchester - Life on the Dig, by Jenny Halstead & Michael Fulford, is available from Two Rivers Press
Jenny Halstead
Jenny studied art in Surrey and at the Royal Academy Schools, in London before training in medical art. She worked in teaching hospitals, and then turned to free-lance illustration which included natural history as well as surgery and anatomy. A decade ago she chose to return to fine art. The Silchester project has enabled her to bring these two disciplines together, interpreting the daily events of the dig as well as recording some of the details of the finds.