Reading and Henley welcome top alumni to new Malaysia Campus


Release Date 24 October 2015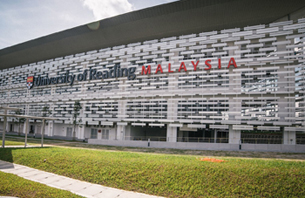 JOHOR BAHRU: Sat (24 Oct 2015)
The University of Reading (UoR), ranked in the top 1% globally, together with Henley Business School (HBS), today welcomed its alumni from some of Malaysia and Singapore's top companies to the new University of Reading Malaysia campus in EduCity Iskandar.
The UoR Vice-Chancellor, Sir David Bell, and Professor Tony Downes, Provost of the University of Reading Malaysia (UoRM), hosted the event to build partnerships with its alumni to help deliver first class graduates to drive economic growth across the region.
The outstanding campus opened its doors to students earlier this month and is already providing a world-class British university education to students throughout Asia.
Courses are available at Foundation, Undergraduate and Post Graduate level in business, finance, quantity surveying, real estate and psychology - with further courses to come. The prestigious Henley MBA, recently ranked at 22nd in the world, will also soon be given its Malaysia launch.
Sir David Bell said: "UK universities are among the best in the world and are proven engines of economic growth.
"The opening of the University of Reading's first overseas campus in Malaysia demonstrates the UK's long-term commitment to investment in Asia. Higher education is a key contributor to exports, creating jobs, training highly-skilled graduates and supporting the delivery of a knowledge-led economy."
Professor Tony Downes said: "The 21st century will be the 'Asian Century', and the University of Reading, together with Henley Business School, is investing in Malaysia for the long term.
"Many of our alumni now lead major organisations across the region. By engaging them we plan to share ideas on how to give our future graduates the knowledge, skills and experience they need to excel in their chosen field. This will give us the best chance of helping the ASEAN economy to grow."
ENDS