Reading autism researcher awarded prestigious Leverhulme Prize
Release Date 23 October 2015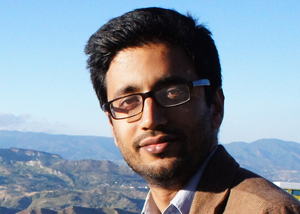 Bhismadev Chakrabarti, Associate Professor of Neuroscience at the University of Reading, has been awarded a prestigious Philip Leverhulme Prize by The Leverhulme Trust.
Worth £100,000, the Philip Leverhulme Prizes recognise the achievement of outstanding researchers whose work has already attracted international recognition and whose future career is judged to be exceptionally promising.
Each year the scheme awards up to thirty Prizes across a range of disciplines and in 2015 the selected subject areas are: Classics, Earth Sciences, Physics, Politics and International Relations, Psychology, and Visual and Performing Arts.
The Prize is in recognition of Dr Chakrabarti's fundamental research on how we understand and respond to others' emotions, an ability often associated with difficulties in individuals with Autism Spectrum Conditions (ASC). Dr Chakrabarti's research group studies these processes in individuals with and without ASC using a range of techniques including psychophysiology, eye-tracking, and functional MRI at the Centre for Integrative Neuroscience and Neurodynamics.
The prize will support his new work on how people respond to different types of rewards including social rewards, such as smiling faces or a pat on the back, and nonsocial rewards such as chocolate. The aim is to help understand why some individuals find it easy to understand and respond to social stimuli while others struggle with it.
Dr Chakrabarti, from the University's School of Psychology and Clinical Language Sciences, said: "I feel very honoured. I am grateful to all my mentors and collaborators, and especially the fantastic colleagues at Reading who have provided a supportive and intellectually stimulating environment all through."
Professor Laurie Butler, Head of the University of Reading's School of Psychology and Clinical Languages said: "Many congratulations to Bhisma. His cutting-edge work is helping to shed crucial light on the driving factors behind Autism Spectrum Conditions which could make a real difference to people's lives in the future. The Prize is fully deserved."
Further information about the Philip Leverhulme Prize can be found here