Plans for new schools, homes and sports centre submitted to council
Release Date 02 September 2015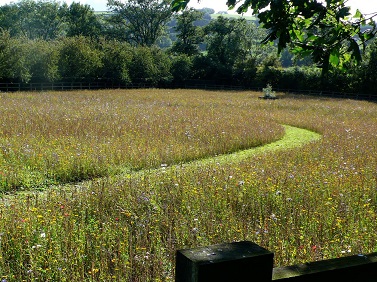 Plans for a new neighbourhood, including the new Didcot Sports Centre, on land to the northeast of Didcot have been submitted to South Oxfordshire District Council (SODC).
The application, which also includes planning for 1,880 new homes, primary and secondary schools, allotments and a nature park, has been submitted by the North East Didcot Partnership, comprising the University of Reading and Croudace Homes.
The development will provide a range of new homes, from starter and family homes to a number of larger detached properties. Up to 40% will be classified as affordable homes, available for below market rent or shared ownership and managed by a Registered Provider. Plans also include extra care housing and 10% of the homes could be built to 'Lifetime Homes' standards, allowing them to be easily adapted if mobility levels are reduced in later life.
The proposals are in line with the framework set down as part of SODC's Core Strategy for building 11,487 new homes in the district by 2027.
As well as a new secondary school site and two new primary schools, the proposals provide for a new neighbourhood centre with shops and other local services, a new community hall, allotments and a nature park. The application, if approved, is intended to enable land to be secured for SODC to design the new Didcot Leisure Facility, together with more than ten hectares of sports pitches.
Following two public consultations in 2013, the plans have been refined through work with national bodies, as well as utility providers and planning officers at SODC. The outline proposals show how the site can deliver the much-needed new homes in the Didcot area and associated supporting facilities on this 350 acre (142 ha) site.
Should planning permission be approved later this year, and subject to separate reserved matters applications setting out the detail of the first phase of the scheme, development is likely to start in later 2016. The delivery of 150-200 homes each year is expected from that point onwards over about a ten-year period.
Nigel Frankland, Strategic Estates Director at the University of Reading, said: "We've worked hard with local residents and stakeholders, in particular South Oxfordshire District Council and Oxfordshire County Council, to put together a comprehensive and integrated scheme which not only delivers the much-needed new homes, but also delivers the supporting facilities and infrastructure that go alongside them in a timely fashion."
Richard Holmans, Managing Director of Croudace Homes (North Thames), said: "From the new schools and the new sports centre site, to substantial local transport improvements, this is a long-term plan to complete a high quality new neighbourhood in Didcot over the next 10 years or so."
More information and application documents can be found on the website - www.northeastdidcot.co.uk or by calling 0800 148 8911.