Royal Mail's stamp of approval from Reading bee experts
Release Date 02 September 2015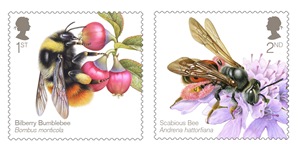 University of Reading scientists have helped Royal Mail to create a new set of special stamps celebrating British bees.
Royal Mail worked closely with bee expert Simon Potts, Professor of Biodiversity and Ecosystem Services at the Centre for Agri-Environmental Research (CAER) - part of the University of Reading's School of Agriculture, Policy and Development.
The stamps feature the Scabious Bee, Great Yellow Bumblebee, Northern Colletes Bee, Bilberry Bumblebee, Large Mason Bee and the Potter Flower Bee.
An additional miniature sheet includes four stamps showing the life and importance of the honeybee.
Royal Mail also commissioned new research that found that more than half of people questioned (53%) could not name any type of bee - despite nearly 87% saying they care about the bee population in the UK.
Findings also discovered that only 3% of people were aware there are around 250 species of bee living in the UK, with the majority (71%) believing there were fewer than 20.
Professor Potts said: "Scientists are learning more and more about the complex biology of bees, and this beautiful series of stamps captures the amazing diversity of bees and their lifestyles in the UK.
"It's a chance for us to keep learning about the unique wildlife that surrounds us."