New Director for the Walker Institute will develop inter-disciplinary research for a climate resilient future
Release Date 15 September 2015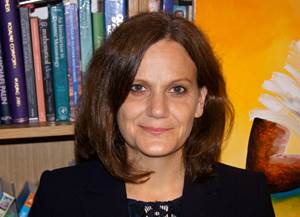 The University of Reading is pleased to announce the appointment of Dr Ros Cornforth as the new Director of the Walker Institute.
Dr Cornforth, based previously in the University's Meteorology Department, is an expert in inter-disciplinary research to support climate resilience and development, working particularly in Africa. As a leading innovator in knowledge exchange and multi-stakeholder engagement, she links science, policy and practice to drive user-orientated research and solutions.
Professor Steven Mithen, Deputy Vice Chancellor at the University of Reading, said: 'I am absolutely delighted that Dr Cornforth has been appointed as the new Director. During the last decade she has made a huge contribution to climate research and knowledge exchange, becoming influential in a large number of international networks and organisations. I look forward to seeing the realisation of her vision, building on the Walker Institute's strong foundation, to expand its inter-disciplinary activities and international scope.'
Dr Cornforth said: 'This is an exciting new chapter for research and innovation at Reading and I am thrilled by the opportunity to further develop the Walker Institute as a centre of inter-disciplinary excellence. '
'With the approaching UN Climate Summit in December, addressing the challenges of climate change has never been higher on the agenda. The Walker Institute is well placed to address these challenges. We have an extra-ordinary cluster of world-leading expertise from meteorology to politics and our strong position will allow us to deliver a programme of inter-disciplinary work and rapidly translate new advances. '
'We will contribute to a robust global society which is resilient to the inter-related challenges of environmental and socio-economic change and which can thrive by turning such challenges into opportunities for growth.'
Dr Cornforth undertook her PhD in Meteorology at the University of Reading and has held a number of research positions within the NERC funded National Centre for Atmospheric Science (NCAS). Her research has focussed on African rainfall, knowledge exchange, decision making and the development of user-oriented knowledge and information systems. She is the founder and Director of the Africa Climate Exchange (AfClix) and consultant for the Department for International Development (DfID) Africa Regional Team.