University Museum teams up with English Folk Dance and Song Society to serve up 'The Full English Extra'

Release Date 16 September 2015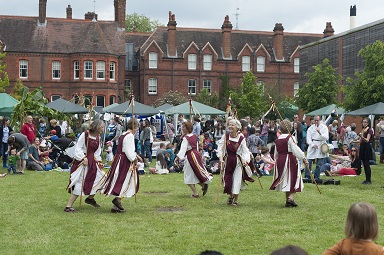 New project will digitise important archive collections and deliver a learning programme in partnership with the Museum of English Rural Life
The Museum of English Rural Life has joined forces with the English Folk Dance and Song Society (EFDSS) to deliver a learning programme as part of a new initiative to preserve and promote the folk arts.
The museum, which is owned and managed by the University of Reading, will partner EFDSS in The Full English Extra that will combine folk arts and museum education to provide a powerful new learning experience for schools.
The Museum and EFDSS will work with one or more local secondary schools, focusing on rural and agricultural themes drawing from the museum's collection and the redevelopment of its galleries.
The Full English Extra builds on the success of EFDSS' flagship project The Full English, which created the world's largest digital archive of folk songs, dances, tunes and customs, and a nationwide learning programme that reached more than 15,500 people.
Katy Spicer, Chief Executive of EFDSS, said: "The Full English Extra will allow us to expose these important dance and broadside collections to a wider audience. The launch of The Full English archive was a landmark in digital archives and we know from its continuing popularity that people are keen to learn more about folk culture.
"We are very pleased to be working with the Museum of English Rural Life to develop an individual programme that will allow us to inspire a new generation about traditional folk music and dance."
Phillippa Heath, Audience Development Project Manager at the Museum of English Rural Life, said: "We are delighted to be a partner in the Full English Extra project. The project comes at a time when we are redeveloping the museum, and redisplaying our collections for a new generation to engage with rural heritage.
"We are particularly excited about working in partnership with EFDSS and secondary schools on this project to discover the ways that folk culture can enhance the appreciation and understanding of our collections, not only for secondary learners, but for our many other audiences."
The Full English Extra, which is supported by National Lottery players through the Heritage Lottery Fund, will run from September 2015 to March 2016.