University of Reading Malaysia welcomes first undergraduate students
Release Date 28 September 2015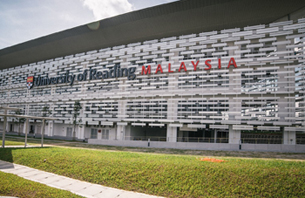 The University of Reading's first ever full overseas campus has opened its doors to its first cohort of new undergraduates today.
The University of Reading Malaysia (UoRM) is based on the EduCity complex, Johor Bahru, Iskander. The stunning £25 million state-of-the-art purpose built campus is an integrated, self-contained site centred around 'The Heartspace' - a tropical plant-filled plaza designed on the open, natural space of the award-winning Whiteknights campus in the UK.
The new 27,000m2 building combines flexible teaching, research, learning facilities and social spaces - including top-class laboratories; an outstanding Learning and Resource Centre; and four new lecture theatres. The vibrant student village offers halls, catering, and excellent sports facilities on the broader 350 acre EduCity complex - one of the most advanced university sites in Southeast Asia.
The initial cohort of 150 students will study Foundation in Business or Science, with undergraduate programmes in Business and Finance, Quantity Surveying, Real Estate or Psychology. Undergraduate programmes in Pharmacy and Law and a range of postgraduate programmes, including the Henley Business School MBA, are due to launch in 2016.
UoRM's courses will offer Malaysian students the best of both words - a top-class UK degree course or programme and the same excellent teaching and learning experience students receive on the University's UK campus - all in one of the most vibrant and dynamic countries in Asia. UoRM is offering scholarships up to 100 per cent to brightest and best students. All students are guaranteed the chance to study in the UK, with UK students able to continue their studies in Malaysia.
Student numbers are expected to build quickly over the next 12 months - the first Open Day in August attracted 2000 visitors - with a major event for the University's Malaysian alumni next month hosted by the Vice-Chancellor. The eventual capacity is for 3,000 students.
University of Reading Vice-Chancellor Sir David Bell said: "This is a milestone in terms of our global presence. Our work in Malaysia is a natural extension of the close ties that we have enjoyed there over many years, as well as a vivid example of our ambitions to have impact around the world. Our world-class strengths in research and teaching will make a lasting impact in this dynamic and exciting region, equipping the next generation to rise to the challenges of an increasingly globalised economy."
Professor Tony Downes, Provost, University of Reading Malaysia, said: "UoRM staff have been working round the clock to prepare for the students' arrival and I am extremely proud of what we have achieved together. As the campus is brand new, students are arriving at the same time as staff are moving in to their new home, which has created a great deal of buzz and excitement. Seeing students arrive on campus and our staff begin teaching has made all the hard work worthwhile.
"I welcome everyone to our new campus and wish everyone success in their work and studies."
Visit The University of Reading Malaysia website and follow us on Facebook.