Reading in the news - Weds 3 August
Release Date 03 August 2016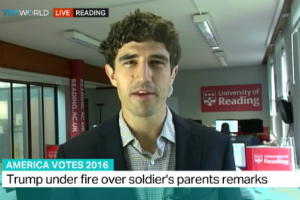 Here's Wednesday's summary of media coverage for the University of Reading.
US elections: Dr Tom Long (Politics & International Relations) speaks to new Turkey-based international news outlet TRT World about Donald Trump's latest comments in the race to become American president.
Diet: Dr Gunter Kuhnle (Food & Nutritional Sciences) comments on a study suggesting eating lentils and nuts rather than meat and eggs, could add years to your life. His comments appear in the Daily Mail and trade titles.
Student mobility: Pro-Vice-Chancellor Vincenzo Raimo writes for OBHE to debunk myths on international student mobility.
UoR Malaysia: The University's campus in Malaysia is mentioned in the Financial Times in an article on Malaysia establishing itself as a higher education hub.
Other topics: