Substantial Arts Council award will help 'town & country' museums work together
Release Date 03 August 2016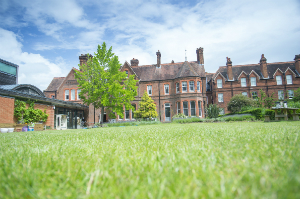 The Museum of English Rural Life (The MERL) has been awarded £237,500 to join forces with Reading Museum on a new digital engagement project which will transform the way the museums use technology to bring collections and communities together.
The MERL, which is owned and managed by the University of Reading, and Reading Museum, which is run by Reading Council, have received the award as part of a funding package of £12.2m made to museums across the country by Arts Council England's Museum Resilience Fund.
The funding will allow The MERL and Reading Museum to work together on an 18 month project - Reading: Town & Country - which will enable both museums to update the skills of staff and volunteers and to work together with local communities on innovative digital programmes inspired by collections.
Reading Museum's strengths in community engagement will complement The MERL's expertise in digital marketing. Both museums will be looking for ways of enhancing the museum visit through technology as well as encouraging people to explore their rich online collections.
The increased use of digital platforms for marketing and audience engagement also supports both museums' commitment to environmental sustainability. The museums will use their complementary collections relating to life in the town and country of the past to encourage visitors to make environmentally friendly decisions today.
Kate Arnold-Forster, Director of the Museum of English Rural Life said: "We are delighted to have been given the opportunity to collaborate with Reading Museum on this critical project. As we reopen the new Museum of English Rural Life in October, following our major redevelopment, this project will help us move forward in a fast-moving digital environment. The funding will help secure the future of both museums by training staff and volunteers to using digital platforms for building relationships with communities through innovative crowdsourcing, co-curation and marketing projects."
Cllr Paul Gittings, Lead Councillor for Culture, Sport and Consumer Protection at Reading Borough Council, said: "I'm delighted this generous grant from Arts Council England recognises the exceptional contribution both museums make to Reading's heritage.
"The award will allow us to build on our existing success and extend our close partnership for the benefit of people locally and nationally. It will represent a significant boost to the museums' profiles, helping us to increase community engagement and look at exciting new ways for people to access these important collections."
"It is an incredibly exciting time for Reading. With Reading's Year of Culture in full swing and the recent award for the Reading International project, this latest award further contributes to our aspirational journey to cultural success."
John Orna-Ornstein, Director of Museums at Arts Council England, said: "The focus of our investment approach for museums in 2015-18 is on building a more resilient sector. The Museum Resilience fund is a key part of that, providing vital support to museums right across the country. Digital technology has so much to offer museums across the country, but not everyone is equipped with the skills to capitalise on this. And so we are really pleased to be able to support Museum of English Rural Life and Reading Museum as they seek to overcome this challenge."