Reading in the news - Fri 12 August
Release Date 12 August 2016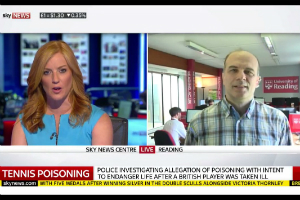 Here's Friday's summary of media coverage for the University of Reading.
A-Level results: Director of Admissions James Ackroyd is interviewed by Sky News on how universities are incentivising student recruitment ahead of A-Level results days. The interview is used on talkRADIO and Downtown Radio Belfast.
Tennis player: Dr Andreas Karatzas (Food & Nutritional Sciences) examines the story of alleging the poisoning of a young tennis star live on Sky News. Also covered in the Daily Mail.
Evolution: Research from Prof Steve Mithen (Deputy Vice-Chancellor) is quoted in an article on the evolution of humans in the Daily Mail.
Olympics: Further coverage of a graphic by Dr Ed Hawkins (Meteorology) illustrating changing global temperatures since 1850 being included in the Rio Olympics opening ceremony in a segment on climate change. Good Business covers the story.