UN acknowledges Haitian cholera responsibility - expert comment from Reading law academic
Release Date 18 August 2016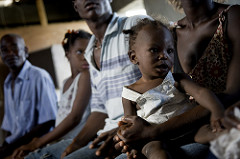 Following a leaked email revealing that the UN acknowledged it's responsibility in the Cholera outbreak in 2010, Dr Rosa Freedman, Professor of Law, Conflict and Global Development at the University of Reading said:
"In 2010 cholera broke out in Haiti because the UN had not screened its peacekeepers and did not have adequate toilets in peacekeeping camps, so infected raw faecal waste flowed into Haiti's main river and has killed 10,000 and sickened nearly a million people since that time.
"The UN has refused to allow victims access to justice through courts or alternative dispute resolution mechanisms, and has refused to take responsibility for the cholera outbreak including failing to contain and eradicate the disease.
"A lot of pressure has been put on Ban Ki-Moon over recent months, including by UN officials and independent experts, and today a leaked email shows that the UN is finally acknowledging responsibility.
"This is a crucial moment because any response from the UN must be victim-centred rather than (as the leaked email says) accepted by Haiti's authorities, especially given that there is no current government in Haiti after significant problems with elections.
A resolution framework package based on victims' rights and justice is covered in Rosa's article on The Conversation available below:
https://theconversation.com/as-the-un-finally-admits-role-in-haiti-cholera-outbreak-here-is-how-victims-must-be-compensated-64140
For interviews, please contact the University of Reading press office on 0118 378 5761 or email pressoffice@reading.ac.uk.