Heart attack research receives funding boost
Release Date 22 August 2016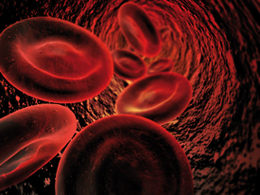 Scientists at the University of Reading will investigate the way blood clots form to help improve the treatment and prevention of heart attacks.
Thanks to donations from the Berkshire community and beyond, the British Heart Foundation (BHF) has awarded Dr Christopher Jones £177,000 to study the cause of heart attacks.
Dr Jones is investigating blood cells called platelets. When blood vessels are damaged platelets respond by clumping together at the site of the injury. If a large clot forms it can block the supply of oxygen-rich blood to the heart muscle causing a heart attack.
Previously it had been thought that the size of clots was controlled by the scale of platelet response. However, new research has suggested that the speed with which platelets respond to damaged blood vessels is a more important factor.
The study will identify how the speed of platelet response varies between people, what mechanisms in platelets control their reaction, and how differences in their response influence the size of a clot.
In the UK, there are 188,000 hospital episodes attributed to heart attack each year, the equivalent of one every three minutes.
Dr Christopher Jones, who is leading the research at the University of Reading, said: "Through this study we hope to better understand how blood clots form.
"If we can identify the molecular mechanisms at work it could enable us to develop new treatments that might better control the formation of large blood clots.
"It could also improve our ability to assess a person's risk of developing a large blood clot and make sure they get life-saving therapies."
Dr Shannon Amoils, Senior Research Adviser at the BHF, said: "Anti-clotting drugs have been very successful in reducing deaths from heart attack, but it remains one of the leading causes of death and disability.
"This research at the University of Reading investigating the dynamics of blood clot formation could lead to new ways of measuring the effectiveness of anti-clotting drugs. In the long-term the aim is to develop a more sophisticated approach to preventing blood clots, perhaps one more tailored to a person's individual risk.
"It's only because of the public's generosity that we are able to continue investing in high quality research that has the potential to save lives."
Learn more about heart health with a free four week online course - sign up now at:
https://www.futurelearn.com/courses/heart-health
Heart Health: a Beginner's Guide to Cardiovascular Disease aims to improve your knowledge of how the heart works, the effects of heart disease and what you can do to avoid it. Explore the anatomy of the heart, explaining how the circulatory system works and what it does.
The course starts on the 5th of September and you can register your interest now.