Reading in the news - Tues 30 August
Release Date 30 August 2016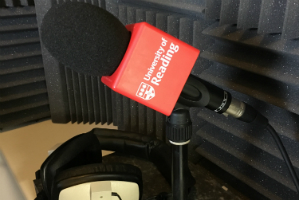 Here's the latest summary of media coverage for the University of Reading.
Reading Festival:
The University of Reading partnered with music magazine NME to give 12 students the chance to report live for NME from backstage at Reading Festival.
The partnership - NME at Reading Festival powered by the University of Reading - saw students produce written and video content for NME.com and its magazine. Visit readinglive.nme.com to see exclusive videos and interviews from the weekend.
Getreading spoke to a student and the digital editor of NME about the partnership.
Jet streams: An animation from Dr Paul Williams (Meteorology) how much the route from JFK Airport in New York to Heathrow Airport in London can fluctuate based on the jet stream wind patterns. Covered at Mail on Sunday.
Greenhouse gases: Dr Ed Hawkins (Meteorology) comments on a study suggesting that man-made greenhouse gases began warming the Earth's temperature almost 200 years ago. His comments appear in The Guardian and at Yahoo.
Antibiotic resistance: New miniaturised technology developed by Dr Al Edwards (Pharmaceutics) can detect anti-microbial resistance overnight. The news is covered at International Business Times, ITV, Getreading and further titles. Read our news story.
Colombian ceasefire: Dr Tom Long (Politics & International Relations) discusses a ceasefire between the Colombian Government and FARC rebels at The Huffington Post, The Wire, ABC Radio Australia and further titles. Tom also spoke to Radio France (listen from 8 mins).
Eclipse winds: New research from Prof Giles Harrison and Prof Suzanne Gray (Meteorology) says that the speed and direction of wind is impacted by a solar eclipse. The news is covered at Space Daily and further titles. Read our news story.
Other topics: