Reading in the News - Weds 31 August
Release Date 31 August 2016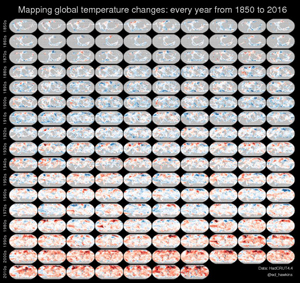 Climate change visualisations: The latest visualisation from Dr Ed Hawkins (Meteorology) showing increasing global temperatures is covered in Wired.
Victoria: Prof. Kate Williams (History) spoke to BBC Radio 4 about the life of Queen Victoria as a new ITV series portraying the monarch airs this week.
Philosophy: Prof. David Oderberg has been named among the top 50 most influential living philosophers in The Best Schools.
UK politics: Dr Mark Shanahan (Politics) spoke to BBC Radio Berkshire about difficulties facing the UK Government in Brexit negotiations as Theresa May holds a cabinet meeting in Chequers today.
Space warfare: Reading PhD graduate Dr John Klein (Politics) writes for War on the Rocks about the legal and strategic implications of potential conflict in space.
Other topics:
Space

: Dr Chris Scott (Met) spoke to BBC Berkshire about a story of possible signs of extra-terrestrial life picked up by a Russian Telescope.

Cyborgs

: A list of individuals who have implanted technology into themselves, including Prof Kevin Warwick, former Professor of Cybernetics, in Fusion.net.

Eclipse Winds

: Further coverage of a UoR study understanding the eclipse wind phenomenon in Phys.org.

Rowing:

UoR student Mathilda Hodgkins-Byrn competing in the World Championships in Rotterdam, writes the Henley Standard.