Child birth, child care and free range eggs: Reading in the news – Weds 7 Dec
Release Date 07 December 2016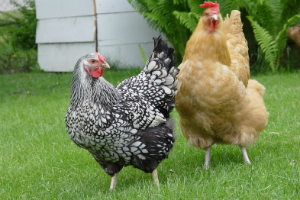 Caesareans and evolution: Dr Louise Johnson (Biology) spoke to BBC World Service about research that suggests the increase of caesareans is changing how we evolve as a species. Also covered by The Daily Beast.
Free-range eggs: Researchers from Reading have found that eggs from free-range hens contain up to 30 per cent more vitamin D than those from birds kept in sheds or cages. The study is reported in The Daily Mail, along with other industry titles. Prof Ian Givens (Food) also speaks to BBC Radio Scotland and MSN.com features a video report.
Green air travel: Dr Emma Irvine (Met) explains how preventing contrail formation can reduce the environmental impact of air travel. Her interview is featured on BBC Radio 4 and BBC World Service Radio.
Religion: Professor Emeritus John Cottingham speaks to BBC Radio 4 on the argument for God's existence.
US Defence Secretary: Newly appointed US Defence Secretary, James Mattis, cites Prof Colin Gray (Politics) as 'the most near-faultless strategist alive', reports The Washington Post.
Working fathers: The Telegraph covers a study part-commissioned by Henley Business School which has found that men are restricted from being more active fathers by traditional working patterns. HR Magazine also covers the story, taking the angle that women's careers progress further when childcare duties are shared more equally with fathers.
Salmonella: Dr Kimon-Andreas Karatzas (Microbiology) explains that unchopped, fresh produce is less risky than pre-cut, pre-washed salads. His comments appear in The Washington Post
Rise of the far right: In the Trump/Brexit era, Dr Daphne Halikiopoulou (Politics) comments on the rise of the far right. Her comments appear in The Independent.
Prosecco: Dr Jeremy Spencer (Food) explains the health benefits of drinking Prosecco. His comments appear in The Daily Star, Good Housekeeping and other international and regional outlets broadcast and online outlets.
Climate change: Dr Ed Hawkins (Met) comments on this Washington Post story about rising global temperatures following El Nino. Also, Tom Edinburgh and Jonathan Day (Met) are referenced in an article on Climate News Network about historic expeditions looking into climate change impact.
Global sea ice: Dr Ed Hawkins (Met) suggests that headlines about large areas of sea ice melting are incorrect, but that we may face many more months of record-low global sea ice. The news appears in International Business Times.
HR processes: Nick Holley (Henley Business School) calls on HR departments to get out the office and stop hiding behind processes. The interview appears in Diginomica.
Cholera: Rosa Freedman (Law) co-authored an article on the cholera epidemic in Haiti. The article appears in The Conversation.
White Christmas?: GetReading analyses how many white Christmases the town has seen in the last 100 years using info from Roger Brugge and Stephen Burt's (Met) book, One Hundred Years of Reading Weather. Dr Rob Thompson (Met) also speaks to Heart Berkshire and BBC Radio Berks.
Pollinator decline: Simon Potts (CAER) co-chairs a UN report calling for global action to address the decline in bees and other pollinating animals. Horticulture Week and Environmental Research Web report.
Bacteria evolution: Dr Chris Venditti (Biology) referenced as a co-author of a study into the link between the shape of bacteria and their ability to move. Story featured in Inquisitr.
Health and safety: Paul Almond (Law) co-authored this report into the public's attitudes to health and safety, featured in Health and Safety at Work.
Food innovation: Dr Christine Williams (Food) explains Reading's role in a new £340m EU food innovation project to BBC Radio Berks.
Robots: Prof Kevin Warwick talks to BBC Radio Berks on the subject of robots replacing humans.
Students in the community: Students from the Reading University Gospel Choir visited residents at Lakeside Residential Care Home to perform Christmas carols and get residents in the festive mood, reports Carehome.co.uk.
Earworms: An article in The Asian Age references Psychology's past study into the effect of chewing gum on reducing the recurrence of earworms.
Beauty products: Professor Philippa Darbre (Biomedical Sciences) comments on a story on US news site WWLP.com on hazardous ingredients being used in beauty products aimed at African-American women.
Breast cancer gene: Student Abdullah Farasani has done some research on how deodorants and other cosmetic products affect the breast cancer susceptibility gene in women, which has picked up some traction on social media. This article (in Arabic) talks about his research on how cells reacted to being exposed to various products.