University of Reading inaugurates new Chancellor
Release Date 09 December 2016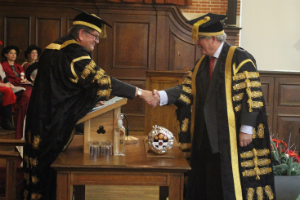 The Rt Hon. The Lord Waldegrave of North Hill PC - William Waldegrave - was inaugurated as the University of Reading's new Chancellor at a ceremony today (Friday 9 December).
Lord Waldegrave becomes Reading's eighth Chancellor, succeeding Sir John Madejski who continues as an ambassador to the University as Chancellor Emeritus.
Sir John Madejski, who has served as the University's Chancellor since 2007, inaugurated his successor at Reading's Winter Graduation ceremony at the Great Hall, London Road.
At his inauguration as the new Chancellor of the University of Reading, Lord Waldegrave, told graduating students:
"This is an immensely proud day for me, my first as Chancellor of this great university, succeeding Sir John Madejski who has done so much both for the University and for the town of Reading.
"Our Government is proposing radical new structures to regulate universities and manage research: we must ensure that the academic freedom and the institutional autonomy on which great universities like Reading have been built over many years are strengthened and not weakened in any reforms which Parliament approves."
In handing over to the new Chancellor, outgoing Chancellor Sir John Madejski, said:
"I feel honoured and privileged to have served the University of Reading as Chancellor for the past ten years. Everybody at the University, from the Vice-Chancellor down, has been exceedingly supportive, helpful and kind; my task there was relatively straight forward and incredibly fulfilling.

"The highlight of my tenure was presiding as Chancellor over the opening of the fabulous new University Campus in Johor Bahru, called the University of Reading Malaysia, the University's south east Asia hub. The University is now poised to go from strength to strength, which fills me with enormous pride and satisfaction."
The Winter Graduation ceremony saw 1,000 students honoured to round off the University's 90th anniversary year.