Climate graphics of the year, becoming a cyborg, and icecream for breakfast? Reading in the news - 15 Dec
Release Date 15 December 2016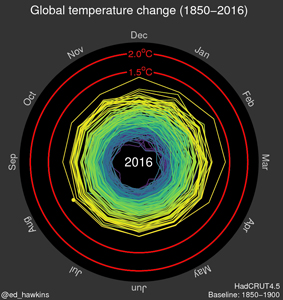 Aleppo ceasefire: Prof Susan Breau (Law) was on LBC Radio this morning discussing the current situation in Syria.
Prosecco: A news report on KFVS Heartland News (USA) features the Reading study into the health benefits of Prosecco.
EU data regulations: Henley Business School announces a new EU General Data Protection Regulation (GDPR) programme alongside the announcement of new EU regulations that represent a huge threat to business continuity for all financial services organisations in the UK. Fintech Finance reports.
Visual processing: This Scientific American blog explains Prof Andrew Glennerster's (Psychology) research into visual processing in your brain.
Student property demand: Studenttenant.com, has examined the demand for property around the top universities in the UK and Reading comes joint third for the highest demand in the UK. Story featured on Property Reporter.
Climate change: Dr Ed Hawkins (Met) compiles his list of the best climate change graphics of 2016 for Vox, and is also quoted in a WEMU article on what climate change is doing to winter weather. This article on The TeCake on the impact of global warming on Antarctic sea ice references a study by Reading scientists, which revealed that in the last 100 years the impact of climate change on both poles has become harsher.
Thames Valley Science Park: Further coverage of the announcement of the new cancer treatment centre to be built at the Science Park includes The Business Magazine, The Belfast Telegraph The Reading Chronicle and Construction News.
Christmas trees dying out: Supanet features a mention of a research study Reading researchers were involved in on the possible effect of worsening climate change to traditional Christmas plant life.
Business school rankings: Henley Business School South Africa has come third in this business school ranking of South African institutions. BusinessTech reports.
Becoming a cyborg: A MarketWatch article on biohacking quotes Prof Kevin Warwick, in which he talks about how technology can help humans achieve more.
Bird Flu: Prof Ian Jones (Biomedical Sciences) quoted in this AsiaOne Health article about a new strain of bird flu infecting humans in China.
Women in Science: Emeritus Professor Averil Macdonald attended a conference in Japan where she spoke about why there are so few women working in the science field. AsiaOne reports.
Icecream for breakfast?: Psychology PhD student Katie Barfoot is quoted in this article on The Daily Pedia on how having icecream for breakfast can make you smarter.
New chancellor: The Reading Chronicle covers the inauguration of new chancellor William Waldegrave.