Best of 2016: Reading academics listed among best history and politics books
Release Date 21 December 2016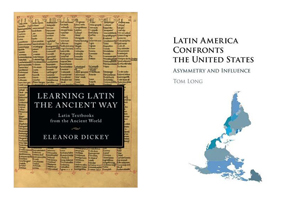 Latin language learning guide named among BBC History's 2016 best book picks
A translation of historical records transforming our understanding of the ancient world has been included in a list of the best ancient history by BBC History magazine.
The book, by University of Reading Classics scholar Eleanor Dickey, provides translations of ancient phrasebooks used by ancient Greeks to learn Latin, providing a picture of ancient Roman behaviour. Much like today's foreign language textbooks they used everyday scenarios to help people improve their language skills. They describe schoolboys in lessons, lawyers in court, trips to the baths, people borrowing money, hosting dinner parties, having disagreements and visiting the sick.
Professor Dickey said:
"It's an honour to see my work being listed among the best ancient world books for 2016. These translations give us real, contemporary stories about the lives of the ancient Romans and I'm delighted that my work to uncover Roman society is being enjoyed."
Professor Dickey's book is available here.
Latin American-US foreign relations text in best foreign affairs book picks of 2016
A book exploring the relationship between Latin America and US has been named among Foreign Affairs' best books of 2016.
Latin America Confronts the United States: Asymmetry and Influence by Dr Tom Long from the University of Reading has been acknowledged for its indepth look at the relationship between Latin America and the United States of America. Featuring an upside down map of the Americas on its cover, the book documents examples of Latin American leaders overcoming power asymmetries to influence US foreign policy.
Dr Tom Long, Lecturer in Politics and International Relations at the University of Reading said:
"I'm flattered that Latin America Confronts the United States: Asymmetry and Influence has been recognised as book of the year by such a prestigious journal. 2016 has been a seminal year for foreign relations especially in Latin America, from the FARC peace deal to the death of Fidel Castro, and I hope that the book and my work at the University of Reading can continue to enlighten people on the important influence that smaller states can exert in international politics."
Dr Long added:
"I was in the US on a research trip when I saw the news, so I was able to immediately tell my grandmother. She was very proud, naturally."
Read Foreign Affairs' review of Latin America.... here