Holly, mistletoe and a white Christmas: Reading in the news Weds 21 Dec
Release Date 21 December 2016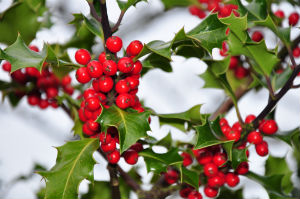 Safety net offers: The Daily Mail has written an article on the trend for universities introducing flexible grade offers in order to secure a higher number of 'first choice' students, citing Reading as an example. A spokesperson from Reading is quoted saying this is the result of a 'very aggressive, competitive undergraduate market'.
Feeding birds in spring: XFM Radio, The Daily Express and Phys.org cover the Reading research which found that feeding birds in the spring makes it more likely that their eggs will be stolen by predators.
2017 predictions: Sir David Bell provides his 2017 predictions for the Centre for Public Impact.
Holly and mistletoe: BBC Radio Northampton reports on research from Reading which found that a lack of pollinators may affect the levels of holly and mistletoe in years to come.
White Christmas: Dr Rob Thompson (Met) speaks to BBC Radio Berkshire on the unlikelihood of having a white Christmas.
Other coverage:
Current mature student Andy Ford talks to Radio 4 about how much he is enjoying his Medieval Studies course here at Reading since his retirement.