Best of 2016: Reading celebrated in academic awards
Release Date 22 December 2016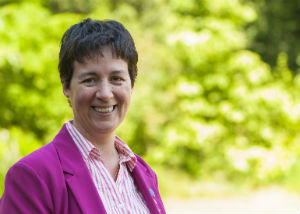 Met professor becomes president of Royal Meteorological Society
Professor Ellie Highwood from the University of Reading has become the 81st President of the Royal Meteorological Society in October 2016.
Professor Highwood is Professor of Climate Physics in the Department of Meteorology and has also been the Dean for Diversity and Inclusion since 2015. She studied Physics at Manchester and then came to Reading in 1993 to do a PhD in Meteorology. After holding a research Council personal fellowship she became a lecturer in 2001 and was promoted to Professor in October 2011, serving as Head of Department of Meteorology with responsibility for academic staff and teaching for 3 years.
Professor Highwood said:
"I am delighted and humbled to become President of the Royal Meteorological Society. I have been involved with difference aspects of the Society for many years, but never thought my photo would be hanging on the wall alongside the likes of James Glaisher, Sir Gilbert Walker, or indeed Sir Brian Hoskins or Dame Julia Slingo. It's both daunting and exciting and I look forward to serving our discipline as best I can, continuing to educate, engage and enthuse current and would-be members of the Society about the wonders of meteorology and climate."
The role of President has a two year term of office, and Ellie takes over from Jennie Campbell who was President since 2014. She is the fourth female President the Society has elected in its 166-year history.
Recognition for Reading scientists
Two Professors from the University of Reading's Department of Chemistry won awards from the Royal Society of Chemistry in 2016.
Professor Christine Cardin (pictured above) won the Royal Society of Chemistry's 2016 Rita and John Cornforth Award for structural work on DNA, and Professor Ian Hamley won the Peter Day Award for his work on polymers and peptides.
Professor Hamley was recognised for his work on polymers and peptides, which are small protein-like molecules - towards the potential development of therapies for conditions including Alzheimer's and obesity. His work also looks at the development and study of collagen-stimulating molecules, for the creation of new biomaterials with potential applications in wound healing.
Professor Cardin along with colleagues from Trinity College Dublin and University College Dublin were recognised for their structural work on DNA - transition metal complexes, proof of the origins of the "light-switch" effect and its implications for mechanisms of DNA damage. The Rita and John Cornforth Award enables scientists working in collaborative research teams with both chemistry and the life sciences disciplines to be promoted and rewarded.
Read our stories about Professor Carlin's and Professor Hamley's awards.
The year was notable too for Professor Giles Harrison, from the Department of Meteorology, being awarded the Appleton Medal and prize of the Institute of Physics, for his outstanding contributions and leadership in the field of atmospheric electricity. This included the discovery of new global-scale atmospheric interactions and his public outreach on the meteorological effects of the solar eclipse in 2015.
Fellow meteorolgist Professor Ted Shepherd was also elected to the Fellowship of the Royal Society in the spring. The dynamic meteorologist's specialisms include theoretical geophysical fluid dynamics and climate modelling and data analysis. His work has highlighted the role of atmospheric circulation in climate change. Read the whole story here.
Silchester Town Life project highly commended in British Archaeological Awards
Reading University's long-term Silchester excavation was shortlisted for Best Archaeological Project in this year's British Archaeological Awards.
Professor Michael Fulford, Project Director and Professor in Archaeology at the University of Reading, said:
"This is wonderful news for the Silchester Town Life Project - a heartwarming acknowledgement of the contributions of the thousands of participants and supporters who have made - and are continuing to make - this project happen.
Watch a video showcasing the Silchester Town Life project at https://youtu.be/0vNowtA8sxk
Flooding researcher shortlisted for Guardian University Awards
Professor Hannah Cloke, a hydrologist from the University of Reading was shortlisted for research that has helped create an effective global early warning system in the Guardian University Awards.
Professor Cloke's 'Water Cycle' project, which was run in conjunction with the Reading-based European Centre for Medium-Range Weather Forecasts (ECMWF) helps aid agencies respond to flooding disasters more quickly - sometimes even before it has started raining.
Reading academic among most influencial living philosphers
An academic from the University of Reading has been named among a list of the top 50 most influential living philosophers.
Prof. David S. Oderberg, who specialises in exploring how Aristotelian and medieval philosophical ideas help us understand current issues in metaphysics, ethics, and other areas of philosophy, was in a list alongside philosophers Saul Kripke, Noam Chomsky and Jurgen Habermas.
Cole Museum awarded Accredited Museum Status by Arts Council England
The Cole Museum of Zoology has been awarded Accredited Museum status by Arts Council England.
The accreditation serves as a hallmark of quality for the museum. In order to qualify, the management of the museum, the services offered and how collections are cared for must all meet a set of standards designed to measure quality of museums across the UK.