Best of 2016: The year's stories with the biggest impact
Release Date 22 December 2016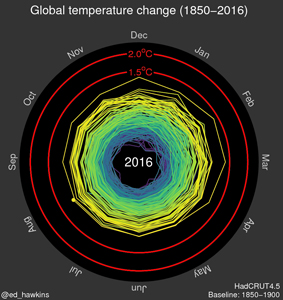 The sight of a Reading scientist's research on a giant screen at the Rio Olympic Games was just one example of the University's research having global impact in 2016.
An animated graphic by Dr Ed Hawkins, showing the global temperature rise from 1850 to the present day, was seen by up to a billion viewers watching the Opening Ceremony in Brazil this summer.
Hawkins' GIF has now been shared on Twitter by the likes of US democratic nominee Bernie Sanders and Energy and Climate Intelligence Unit director Richard Black, and was shortlisted for an Information is Beautiful award. News channel Gizmodo described the graphic as "one of the most convincing visualisations we've ever seen".
Dr Hawkins said: "It's been staggering to see how far and wide the graphic has gone. It was fantastic that the organisers of the Opening Ceremony chose to highlight the risks of climate change in this way to so many people around the world.
"It is a truly global issue which will affect all nations and requires strong international collaboration to understand and tackle."
Dinosaurs
Another study from Reading with monstrous appeal this year was the discovery that dinosaurs were already in evolutionary decline millions of years before the asteroid strike that wiped them out for good.
The study, 'Dinosaurs in decline tens of millions of years before their final extinction', was the 50th most influential research study of the year, out of more than 6 million stories tracked by publishing data analysts Altmetric. See the full list here.
The research was by Dr Manabu Sakamoto and Dr Chris Venditti, with Professor Mike Benton from Bristol. Lead author Dr Sakamoto said: "I am thrilled to see our work highlighted as one of the most talked about pieces of research in 2016.
"I never knew there was so much interest in the finer points of Bayesian statistical analysis. Or perhaps it was the dinosaur angle."
You can read our news story here and watch our video of Dr Sakamoto and Dr Venditti talking about their findings.
Bee highways
The United Nations got to hear directly from Reading scientists about the importance of protecting pollinators this year.
Ecosystems scientist Professor Simon Potts co-chaired a UN report on pollinator decline and was a lead author on a report published in Nature on how this should be tackled to secure the world's food supply.
Recommendations included creating 'bee highways' to allow insect pollinators to move across landscapes, introduce more diverse farming systems to cut down on fields dominated by single crops, and encourage farmers to use fewer pesticides.
Pushy parents
Research by Dr Kou Murayama on the effect pushy parents can have on their children also makes our list – as it was named among the top five education research stories of 2016 by Schools Week.
Dr Murayama's study showed that unrealistically high aspirations set by parents for their children can harm their learning of maths.
It was described as "a corker" by Schools Week and a warning for 'tiger moms' to ease off.
Local impact
A new bus service and primary schools programme were just two results of a research project named Poverty, Participation and Social Exclusion in the UK: The Big Local.
Dr Sally Lloyd Evans, associate professor in Geography and Climate Science, led the work aimed at improving community collaboration and tackling deprivation and disconnection.
Recommendations from the 2015 'Working Better with Whitley' community-led partnership resulted in the introduction of a popular new Scarlet 9 bus service and a partnership with Reading Borough Council to shape its tackling poverty strategy.
The National Council for Volunteering Organisations cited the Whitley Researchers model as 'empowering' in a national report, and the model could replicated elsewhere.
Reading Gaol
Reading International brought unique lectures on Oscar Wilde to the prison in which he was locked up in 1895.
The writer recorded his experiences during two years of captivity in Reading Prison, and these were presented by Professor Peter Stoneley in one of a series of lectures as part of an art exhibition there this autumn, in association with Artangel.
Reading International is a three-year visual arts programme run with Reading Borough Council, which was granted almost half a million pounds of Art Council of England funding in July 2016 to address the lack of access to visual arts of international importance in the Reading area.
CycleBOOM
The CycleBOOM scheme concluded this year, after an investigation into the health benefits offered to older people by cycling regularly.
It found that many cyclists in Reading, and elsewhere in the UK, were nervous about cycling as they did not feel safe and supported on the roads.
Researchers from Reading and other universities presented their findings at conferences in London and Manchester to advise policy-makers, the cycle industry and urban designers on how they could better support cyclists.
Flooding
Work to improve how communities respond to and predict flooding got under way, in partnership with Loddon Valley Residents Association chairman Phiala Mhering.
Reading's Regional PhD Bursary (2016-2021) 'Get your water out of my lounge': Understanding the societal perception of flood risk and the 'ownership' seeks to deliver flooding solutions in the Loddon Valley area.
Residents stand to benefit directly from this work, in terms of better preparedness, lower anxiety and potentially mitigation of flood risk.