Key committees to have 30% women members by 2020
Release Date 09 February 2016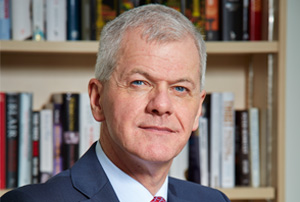 All key decision-making committees at the University of Reading will have at least 30% women members by 2020.
The target is among others announced today by the Vice-Chancellor, Sir David Bell, to promote stronger gender and racial representation at the University.
He said: "I am clear we cannot be complacent nor find excuses about the lack of diversity being sector-wide, rather than Reading-only problem. An all-male, all-white University Executive Board (UEB), along with the lack of gender and racial balance on other decision-making committees, sends out the wrong message about our values and ambition.
"It makes good sense too. Growing evidence points to the positive impact of supporting and promoting diversity and inclusion – including improved overall performance and teams that take balanced decisions and develop sound strategies."
The targets set an ambitious course of action over the next four years.
On gender, the University aims by 2020 to:
have at least 30% of either gender in all key University committees and boards, including the UEB.
maintain the current baseline of at least 45% of either gender in the overall University Leadership Group – including UEB, Deans, Assistant Deans, Heads of School and Heads of Function.
have a gender-balanced professoriate, with at least 40% of professors of either gender. Current baseline is 30%.
reduce the pay gap that exists at senior (professorial and Grade 9) levels. Current baseline is 11% (there is no significant pay gap at other levels currently).
On race and ethnicity, the targets are for:
all key university committees to match academic staff Black, Asian and minority ethnic (BAME) representation by 2020.
council and sub-committees to set targets for BAME representation on their committees consistent with national census baseline for BAME.
a minimum of 15% in each of grades 1-5 non-academic staff and 12% in grades 6-9 non-academic staff to be BAME by 2020. Current baseline across all non-academic staff is 8% - levels set by local and national census data respectively.
a minimum of 14% of academic staff in grades 7 and above to be BAME by 2020. Current baseline is 11%.
On sexual orientation, the targets are:
for over 70% of UK-based staff to have declared their sexual orientation by 2018 and 95% by 2020. In 2013-14, the figure was 32%.
to improve the position on the Stonewall Workplace Index, aspiring to be in top 50 by 2020. Current position is 204.
The Vice-Chancellor acknowledged these were challenging targets, and called on staff to support the efforts to make the University and diverse and inclusive institution.
"Real change will not happen overnight, but I am confident that long-lasting change can be best set through tough, transparent but achievable targets," he said. "We want to be the place where an individual can fulfil their full potential, irrespective of who they are and where they come from. We want to be the place that attracts the best students and staff and then provides them with the right environment in which to flourish."
The University has already made two significant commitments towards these targets. From 2016-17 session, all Schools will be reimbursed the full cost of staff going on parental leave, with 25% of the funds being ring-fenced to aid the individual in returning to work. From 2017-2018, this will be extended to other staff.
There are also plans to pilot anonymous applications for some grades, with a view to extending this if it is successful in raising BAME representation at these grades. Applicants will still provide all the details in their application, but the shortlisting panel will only have access to information relevant to the role advertised.