What a textbook tells us about life in ancient Rome
Release Date 11 February 2016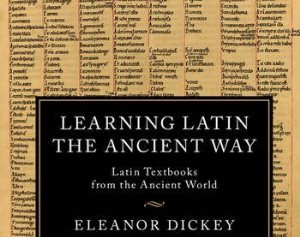 A new translation of historical records is set to transform our understanding of the ancient world.
How did the Romans go shopping? What did Roman children do when they arrived at school in the morning? What did a Roman banker do when someone came to borrow money? Answers to these and other questions are revealed for the first time in a set of newly translated documents: ancient Latin school textbooks, or colloquia, that cast fresh light on life in the ancient world.
The colloquia were popular 'phrasebooks' written for Greeks who were learning Latin during the Roman empire, and very much like today's foreign language textbooks they used everyday scenarios to help people improve their language skills. They describe schoolboys in lessons, lawyers in court, trips to the baths, people borrowing money, hosting dinner parties, having disagreements and visiting the sick. They even explain how to discipline a family member who comes home drunk after an orgy.
The colloquia provide a rare insight into the lives of ancient Romans as well as how Latin was learned at that period, but they have long been neglected because they had never been fully translated - until now.
Classics scholar Eleanor Dickey, from the University of Reading, has produced the first major translation of the colloquia (including many previously unused manuscripts) and written a new book based on a comprehensive study of the entire tradition. Her extraordinary findings from the colloquia and other ancient language-learning materials are published in Learning Latin the Ancient Way: Latin Textbooks in the Ancient World, by Cambridge University Press.
Professor Dickey said: "When we think of the Romans, it's mainly of the rich and famous generals, emperors and statesmen. But those people are clearly atypical: they're famous precisely because they were remarkable. Historians try to correct this bias by telling us about the masses of ordinary Romans but rarely do we have works written by or about these people. These colloquia give us real, contemporary stories about their lives and I hope my work gives a fairer and truer vision of ancient society."
Eleanor Dickey has taught in Canada and the United States, and is currently Professor of Classics at the University of Reading. She is a Fellow of the British Academy and of the Academia Europaea and has published widely on the Latin and Greek languages and how they were studied in antiquity, including Greek Forms of Address (1996), Latin Forms of Address (2002), Ancient Greek Scholarship (2007) and The Colloquia of the Hermeneumata Pseudodositheana (2012-15). She has extensive experience of teaching both Latin and Greek at all levels, in French as well as in English, and has brought this experience to bear on her adaptations of the ancient Latin-learning materials for modern students.
Learning Latin the Ancient Way: Latin Textbooks in the Ancient World by Eleanor Dickey is published today by Cambridge University Press.