University of Reading Malaysia officially opens new EduCity@Iskandar campus
Release Date 25 February 2016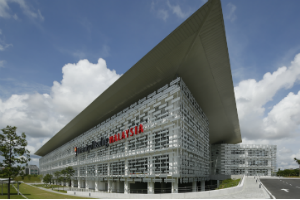 The University of Reading Malaysia (UoRM) and Henley Business School Malaysia was officially inaugurated today (Thursday 25 February) by The British High Commissioner to Malaysia, Vicki Treadell CMG, MVO.
More than 400 guests, staff and students attended the formal opening ceremony in the University's state-of-the-art purpose-built complex in EduCity, Iskandar - part of an initial £13m (80m MYR) investment from Reading to date.
The University awarded honorary degrees to the High Commissioner and Ong See Lian - the first non-British President of The Royal Institution of Chartered Surveyors and a Reading graduate.
UoRM is the University of Reading's first multidisciplinary overseas campus and its fifth campus overall, alongside the Whiteknights and London Road campuses in Reading, and the Henley Business School sites at Greenlands and Johannesburg. The new facilities will educate up to 3,000 students, with ambitions to extend beyond the current building into new space at EduCity.
The first foundation and undergraduate courses in business, finance, psychology, real estate and quantity surveying started last September, with Henley Business School's MBA starting this month. All courses are fully University of Reading degrees, equal to the tough standards set in the UK but at half the equivalent tuition fees. All students are guaranteed the option to study from a term up to one year of their degree in Reading, while UK-based students can transfer to study in Malaysia.
The vibrant student village at EduCity offers halls of residence, catering, and excellent sports facilities making it one of the most advanced university sites in South East Asia.
The opening comes two days after the UK government launched its 12 month GREAT Year of Education campaign to promote British education in Malaysia - to strengthen higher education, college and school exports to Asia. UoRM will also support the Malaysian government's ambitious higher education expansion plans over the next 10 years - and work towards the target to attract 250,000 international students by 2025.
Vice-Chancellor Sir David Bell said:
"This is a momentous day for the University of Reading and Henley Business School.
"We are celebrating our 90th anniversary this year and Henley's 70th - but this is an ambitious and clear statement of intent for the future.
"This magnificent, state-of-the-art campus means we can project our world-leading research and teaching across Asia, while offering our students and staff with outstanding opportunities to study and work abroad."
UoRM builds on established teaching and research partnerships in Malaysia, including the first joint UK/Malaysia law degree with Taylor's College in Kuala Lumpur which began in 2009.
Professor Tony Downes, Provost, University of Reading Malaysia, said:
"The 21st century will be the 'Asian Century' and this is a long-term investment in Malaysia's economy, society and people.
"Our first-class teaching and research means we are giving graduates the knowledge, skills and experience they need to excel. We are engaging with industry, education and public policy partners across the country, as well as tapping into our very strong, engaged alumni base in Malaysia and across the region - all to equip the next generation in their chosen field.
"We want to play a key role in supporting Malaysia reach its very ambitious targets to attract 250,000 international students by 2025.
"We are offering the best of both worlds - a UK degree from the brand new campus in EduCity in one of Asia's most dynamic countries. We are meeting the demand English-speaking degrees for students who want to study closer to home - tempted by lower fees, living expenses and travel costs."
Her Excellency Vicki Treadell said:
"The education sector has been a great success story for Britain in Malaysia. We want to build further on that. We have just launched our "Education is GREAT" campaign with a series of initiatives that will enhance the education partnership between Britain and Malaysia."
"UK education is getting increasingly accessible with the offer of transnational education where one can pursue a British qualification outside Britain. Over 58.000 individuals are studying for a British qualification in Malaysia, making Malaysia Britain's largest market for transnational education. University of Reading Malaysia is the latest of five British universities with campus here in Malaysia, and I am pleased to see it playing a role in delivering education excellence."
You can watch the Ceremony of Inauguration on YouTube: https://www.youtube.com/watch?v=H-KW06gTThc.
For more information, visit the University of Reading Malaysia website: www.reading.edu.my or Facebook page: www.facebook.com/universityofreadingmalaysia.