University of Reading awards first honorary degrees in Malaysia
Release Date 25 February 2016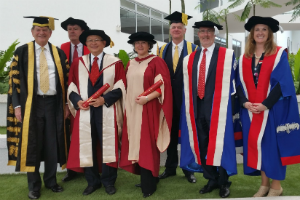 The University of Reading awarded two honorary degrees at the official inauguration of its new campus in Malaysia today (Thursday 25 February).
The British High Commissioner to Malaysia, Her Excellency Vicki Treadell, and University of Reading alumnus and the first-non British President of the Royal Institution of Charter Surveyors, Ong See Lian received the honours at the formal ceremony of inauguration of the University of Reading Malaysia - held in its new purpose-built, state-of-the-art campus at EduCity, Johor Bahru, Iskander.
They join the University's community of 100,000 alumni across 150 countries - and a roll of honour of noted honorary graduates, including the UK Met Office's Chief Scientist Professor Julia Slingo, the late film director Anthony Minghella, world-leading chef Heston Blumenthal and Google's Chief Internet Evangelist and a father of the internet, Vinton G Cerf.
The degrees were presented by University of Reading Malaysia's Provost Professor Tony Downes.
Professor Downes said:
"We are passionate about Malaysia - its people, its culture and its dynamic, can-do outlook. There are no two better honorary graduates than Vicki Treadell and Ong See Lian - both powerful advocates for Malaysia and UK's joint long-term ambitions."
Her Excellency Vicki Treadell, CMG, MVO, British High Commissioner to Malaysia
HE Vicki Treadell has been the British High Commissioner to Malaysia since October 2014. She was previously British High Commissioner to New Zealand and Samoa and Governor of Pitcairn.
She has a wide range of diplomatic experience. Before New Zealand she was the British Deputy High Commissioner in Mumbai, covering Western India, from 2006-2010. Her main focus there was economic diplomacy, promoting two way trade and investment, building relations with corporate India and the main financial institutions headquartered in Mumbai such as Tata Group and the Reserve Bank of India. Her earlier overseas postings were to Islamabad and Kuala Lumpur. Over her career with the Foreign & Commonwealth Office (FCO) she has covered Western Europe and Latin America policy desks in London.
Her strong business and commercial background stems from her first job in the FCO in its Economic Relations Department. Between 1997-2005 she was seconded to UK Trade & Investment (UKTI) including three-and-half years as UKTI's Director for the North West of England where she responsible for the strategic direction of trade promotion & foreign direct investment as key drivers for the region's economic development. She has further led two high profile crisis response efforts, the November 2008 Mumbai terrorist attacks and the February 2011 Christchurch earthquake.
The High Commissioner was awarded Membership of the Royal Victorian Order (MVO) in 1989 and was made a Companion of the Order of St Michael and St George (CMG) in 2010. Born in Malaysia and raised there until she was eight, her family migrated to the UK in 1968.
She is awarded a University of Reading Honorary Degree of Doctor of Laws.
Ong See Lian, KMN
A graduate of University of Reading (1974), See Lian has an illustrious career spanning over 40 years in both the public and private sectors. He began his career in the Public Works Department in 1974 until 1982 when he joined an international quantity surveying practice, Davis Langdon & Seah. Currently he is the Chairman of Benchrisda Associates Sdn. Bhd., a company devoted to dispute resolution and consultancy.
See Lian was the President of the Royal Institution of Surveyors Malaysia, RISM (2003 - 2004); Chairman of Pacific Association of Quantity Surveyors (PAQS) (2003 to 2005); and Board member of the Board of Quantity Surveyors Malaysia.
See Lian was the 130th Global President of the Royal Institution of Chartered Surveyors, RICS (2011-2012). His inauguration on 4th July 2011 was a historic event as he was the first non-British passport holder, first Asian and the first Malaysian to be elected as the Global President in the 143 year history of RICS.
Currently he is the Chairman of Commission 10 (Construction Economics and Management) of Federation of International Surveyors (FIG). See Lian is also the elected Chairman of the Standard Setting Committee (SSC) for International Construction Measurement Standard (ICMS).
In recognition of his contributions to the profession and the property and construction industry, he was honored with multiple awards including KMN (2003) by the King of Malaysia, PAQS Gold Medal (2007), "Malaysian Surveyor of the Year" Award by RISM (2008), Malaysian Construction Industry "Prominent Player of the Year" by CIDB (2011),ICEC Distinguished International Fellow (2012), Gold Award by the Board of Quantity Surveyors Malaysia (2014),and CIDB Fellow (2015).
He is awarded the University of Reading Honorary Degree of Doctor of Science.
You can watch the Ceremony of Inauguration on YouTube: https://www.youtube.com/watch?v=H-KW06gTThc.
For more, visit the University of Reading Malaysia website: www.reading.edu.my or Facebook page: www.facebook.com/universityofreadingmalaysia.