University of Reading professor is first woman to win Archaeologist of the Year
Release Date 29 February 2016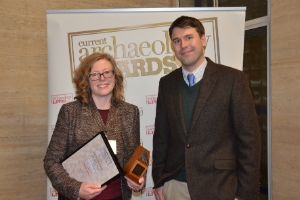 Professor Roberta Gilchrist FBA, heritage and creativity Research Dean at the University of Reading, has become the first woman to win Current Archaeology's Archaeologist of the Year Award.
This is the second consecutive year that a University of Reading professor has won the award following Professor Michael Fulford's success last year.
The award recognises Roberta's recent research on the archaeology of Glastonbury Abbey, renowned for its links to the legendary King Arthur, and her pioneering work on gender in medieval archaeology.
The four-year project on Glastonbury reassessed and reinterpreted all known archaeological records from excavations at the Abbey between 1904 and 1979, none of which had ever been published. Analysis revealed that some of the Abbey's best known archaeological 'facts' are themselves myths - many of these perpetuated by excavators influenced by the fabled abbey's legends.
Her ground-breaking research revealed that the site was occupied 200 years earlier than previously estimated, with fragments of ceramic wine jars imported from the Mediterranean providing evidence of a 'Dark Age' settlement. It also revealed an important Saxon glass-working complex and how the abbey's medieval architecture was influenced by its myths and legends.
On receiving her award, Roberta said:
"I am truly honoured to have been voted Current Archaeology's Archaeologist of the Year 2016 and I would like to thank the Current Archaeology readers and wider public who voted for me. "I'm delighted that my work on Glastonbury Abbey has captured the public imagination. I am particularly proud to be the first woman voted Archaeologist of the Year and to see that women dominated all categories of the Current Archaeology Awards 2016."
Roberta's research was national news when it was published in November 2015 with The Guardian and the BBC among those that covered the story.
To learn more about the research, visit http://www.reading.ac.uk/news-and-events/releases/PR656144.aspx and to read more about Roberta and her work, visit https://www.reading.ac.uk/archaeology/about/staff/r-l-gilchrist.aspx.