UoR media coverage - Fri 1 July
Release Date 01 July 2016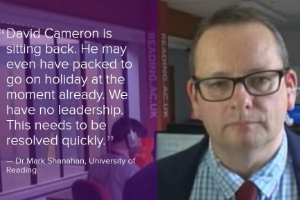 Here's Friday's summary of media coverage for the University of Reading.
EU referendum: Boris Johnson pulling out of the Conservative leadership race is discussed by Dr Mark Shanahan (Politics' & International Relations) on Australia's ABC News 24. Reaction the week's political fallout are analysed from the ICMA Centre's trading floors on BBC 1's This Week programme. Calls for an independent Berkshire state following the Brexit vote is discussed by Dr Stuart Larkin (Law) in the Reading Chronicle. Prof Michael Ball (Real Estate & Planning) comments on how Brexit may impact construction in London at Morningstar and Advfn. The head of the University's Conservative Association talks to BBC Berkshire about the party's leadership race (listen from 01:16:10).
Reading Prison: Prof Lorraine Farrelly (Architecture) comments on proposals to transform Reading Prison into a new cultural centre at ITV News. Read our news story.
Ozone: The state of the ozone layer is discussed by Dr Michaela Hegglin (Meteorology) for Nature.
Other topics:
Soapbox Science

: Dr Joanna Bagniewska (Biological Sciences) will be doing a Soapbox Science event in Reading town centre next weekend reports Getreading.

Weather

: Reading's weather in June is the third gloomiest in 50 years Prof Roger Brugge (Meteorology) tells Getreading.

Psychology

: Prof Patricia Riddell (Psychology) will speak at a catering industry event on a healthy eating project she has carried out. Covered at Stir It Up.