Educating for the future: Professor Sir David Eastwood awarded honorary degree
Release Date 06 July 2016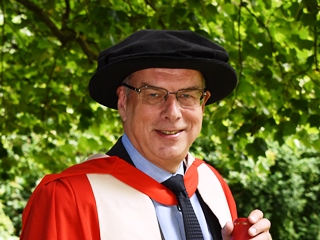 The Vice-Chancellor of the University of Birmingham has been awarded an Honorary Degree of Doctor of Letters by the University of Reading.
Professor Sir David Eastwood was presented for his honorary degree on Wednesday 6 July by Professor Robert Van de Noort, Pro'Vice'Chancellor of the University of Reading, during the summer graduation ceremonies.
Sir David is recognised for his role in educating 21st century lives and reforming higher education.
On receiving the award, Sir David said: "It's particularly special for me to be honoured by a distinguished University for the contribution I have been able to make to higher education. These are wonderful occasions to be a part of, with students and family taking pride in their achievements.
Presenting Sir David for his Honorary Degree, Professor Van de Noort said: "In this fast changing world Professor Sir David Eastwood has stood out as an academic leader who has led the organisations under his direction more masterfully than most.
"All Vice-Chancellors seek ways in which their universities can improve the quality of their education and research, within the financial and other constraints placed upon them by the social order of the day, but few have done this with the same degree of success as achieved by Sir David."
Sir David graduated from St Peter's College, Oxford, in 1980, where he studied modern history. He stayed at the University of Oxford for his early career, where he was Fellow and Senior Tutor of Pembroke College. Sir David later held a Chair in Modern History and was Pro-Vice-Chancellor of the University of Wales, Swansea.
Sir David became Vice-Chancellor of the University of Birmingham in April 2009. He previously held posts as Chief Executive at the Higher Education Funding Council for England, Vice-Chancellor at the University of East Anglia, and Chief Executive of the Arts and Humanities Research Board.
Sir David has served on numerous national bodies and committees. He is currently Chair of Universitas 21 and of the Universities Superannuation Scheme. He is a Board Member of Universities UK, INTO University Partnerships, the Arts and Humanities Research Council, and the Higher Education Policy Institute. He also serves as an International Member of the Hong Kong University Grants Committee.
In 2014, Sir David was awarded a knighthood in for services to higher education.