Reading in the news - Weds 6 July
Release Date 06 July 2016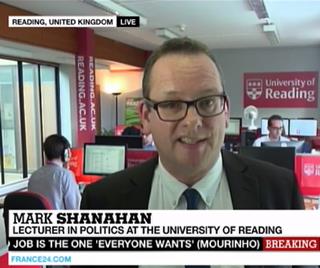 Here's Wednesday's summary of media coverage for the University of Reading:
EU referendum: Dr Mark Shanahan (Politics) discussed the Conservative Party's leadership race and UKIP leader Nigel Farage's resignation on France 24. Article from Prof Mark Casson (Economics) comments on "how to make (almost) everyone happy" after the Referendum vote, on University Business. Prof Peter Hawkins (Henley Business School) comments on leadership challenges learned from the Brexit campaign, on HR Grapevine.
Food: Research about the health benefits of cutting saturated fat covered in the Mirror and Daily Mail, including comments by Dr Gunter Kuhnle (Food).
Summer weather: Dr Pablo Ortega (Met) comments on research suggesting that the UK will continue to experience wet summers, on BBC News website.
Other topics:
<!--[if !supportLists]-->· Stonehenge: Dr Jim Leary (Archaeology) interviewed about the University's Archaeology field school which started last week, on BBC Radio Berks (listen from 02:14:00).
<!--[if !supportLists]-->· Virtual Reality: Prof Andrew Glennerster (Psychology) and Dr Matthew Nicholls (Classics) explain how they use virtual reality to aid research and teaching, in Computer Weekly.
<!--[if !supportLists]-->· Cold War: Prof Beatrice Heuser (Politics) discusses documents showing a possible invasion of Yugoslavia by western powers during the cold war, on Radio 4 Document (listen from 17:10).
<!--[if !supportLists]-->· Thames Valley Science Park: Plans for the next phase of the Science Park at the University went on display yesterday, covered by BBC Radio Berks.
<!--[if !supportLists]-->· Deodorants: Article on the impact of deodorants includes research by Prof Philippa Darbre (Biological Sciences) on parabens and a possible link to breast cancer, in Georgia World.
<!--[if !supportLists]-->· Silchester Town Life: Silchester has been shortlisted for project of the year in the British Archaeological Awards 2016 announced Monday 11th July, in an article for Culture 24.
<!--[if !supportLists]-->· Chilcot Report: Inquiry into the Iraq War mentions Prof Roger Matthews' (Archaeology) work to protect Iraqi heritage sites from allied bombing.
<!--[if !supportLists]-->· Memoirs: Magazine piece on the rise of memoir self-publishing companies, including case study of UoR graduate, on BBC Capital.