Reading in the news - Thursday 7 July
Release Date 07 July 2016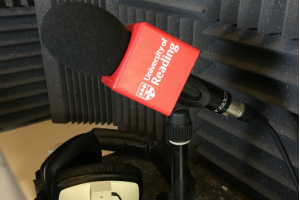 Here's Thursday's summary of media coverage for the University of Reading.
Graduations: Article on the University of Reading's graduations taking place this week, including comments from Vice-Chancellor Sir David Bell, in GetReading. See our release here, and stories about honorary graduates Dame Helen Ghosh and Sir David Eastwood.
Bones: Palaeontologist Dr Manabu Sakamoto (Biological Sciences) interviewed by comedian Jon Holmes on his Talk Radio lunchtime show about bone development in children.
Planning: Dr Jim Leary (Archaeology) comments on a housing planning issue in Hampshire, scheduled for development on a archaeological site, on BBC Radio Berks.
Other topics:
· Virtual Reality: Article on how VR is shaping the future of gaming, which mentions an event at the British Museum attended by VR experts from UoR.
<!--[if !supportLists]-->· GM Crops: Prof Jim Dunwell (Agriculture) comments on GM crops to South Korean radio, TBS eFM.
<!--[if !supportLists]-->· Car autopilot death: Prof William Harwin (Engineering) comments on US car crash believed to have been caused by autopilot technology, in Young Herald, Abruzzo and other titles.
<!--[if !supportLists]-->· Ancient Brazilian homes: Story about research into home improvements made by ancient inhabitants of the southern Brazilian highlands, which included UoR academics, in Phys.org.
<!--[if !supportLists]-->· European University Games: UoR student Sam Twine has been selected to represent GB in rowing at the forthcoming games held in Zagreb.
<!--[if !supportLists]-->· Novel: Interview with Prof Patrick Flanery (English) about his new novel I Am No One, in Books Live.