Investing in Education: Mary Riall awarded honorary degree
Release Date 07 July 2016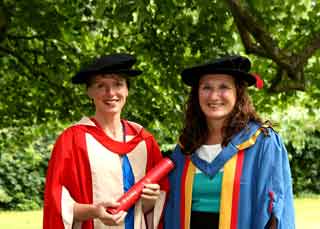 An education charity leader has been given an Honorary Degree of Doctor of Letters from the University of Reading.
Mary Riall was presented for her honorary degree on Thursday 7 July, by Dr Cathy Tissot, head of the University of Reading's Institute of Education, as part of Reading's official graduation ceremonies.
Mary, a former teacher, is the founder and CEO of the Ufton Court Educational Trust in Berkshire.
On being awarded the Honorary Degree of Doctor of Letters Mary Riall, said:
"It was a huge privilege, I was very honoured to receive it.
"As a former graduate myself, studying at the University gave me a chance to stay in touch with what was going on in Education and an opportunity to develop my knowledge and skills. I hope that all those receiving their degrees today can seize every opportunity to develop that they can."
Presenting her for her honorary degree, Dr Tissot said:
"Mary is a Benyon and the latest in a long line of family members who have taken a great interest in the affairs of the University. A primary history school teacher by background, as well as an alumna of our Master's programme, Mary is imbued with the Benyon family's commitment to public service and a deep and genuine desire to improve the lives of others. Ufton Court is a living example of that.
"By providing opportunities for young people that might not otherwise be possible, as well as offering the chance to develop the life skills that are so essential today."
A former graduate of Bristol Polytechnic (BEd) and the University of Reading (MA), Mary began her teaching career in an Inner London Education Authority school in Battersea, before taking teaching positions in Dorchester, Reading, Mortimer and Burghfield Common.
In 2006, Mary left the classroom to set up the Ufton Court Educational Trust. The Trust was established to enrich children's lives through inspirational and challenging education outside the classroom, using the house and grounds of Ufton Court. The trust's programmes are designed to raise aspiration and achievement of all children but particularly focus on helping disadvantaged children develop the vital life skills they need to overcome the challenges they face and to recognise and fulfil their potential.
In 2015, Mary moved roles from Director to Chairman. Previously on the Council of Bradfield College, Mary is also Chair of the Full Governing Body of John Madejski Academy in Reading, and is a trustee of the Ernest Cook Trust.
Mary is married to Tom and lives near Reading with her three children.
<!--[if !supportLists]-->· Investing in Education is a key part of the University of Reading's 'Imagine' campaign. We are educating for 21st century lives – imagine how you could help.