Health innovation: Dr Geoffrey Guy awarded honorary degree
Release Date 07 July 2016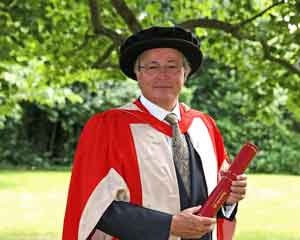 A pharmaceutical chairman has been given an Honorary Degree of Doctor of Science from the University of Reading.
Dr Geoffrey Guy was presented for his honorary degree on Thursday 7 July, by Professor Parveen Yaqoob, Head of the University of Reading's School of Chemistry, Food and Pharmacy, as part their official graduation ceremonies.
With over 30 years of experience in medical research and global drug development, Dr Geoffrey Guy is the founder of GW Pharmaceuticals and has served as its Chairman since 1998.
On being awarded the Honorary Degree of Doctor of Science, Dr Guy, said:
"It's an honour to receive this degree from the University of Reading on this wonderful occasion and for work I am so privileged to be part of. I hope that today's graduates may be inspired to take advantage of the degrees they've received as they become the next generation of health innovators."
Presenting him for him honorary degree, Prof Yaqoob said:
"Fear of controversy has never held Geoffrey back. He faced it head-on in volunteer trials testing the potential use of opiates in terminal illness, and subsequently changed attitudes towards palliative care, allowing patients to get the best out of their last years or months of life.
"He faced enormous prejudice again with the cannabis work; his response was to listen to the concerns and meticulously address each one with top quality data. Geoffrey describes himself as a horizon planner and believes in ensuring that he always has a mental and intellectual soft landing- in other words not investing in just one thing, because it could all change tomorrow."
In 1998, Dr Guy became chairman of GW Pharmaceuticals which specialise in developing cannabinoid medicines. Funding from GW Pharmaceuticals has supported Dr Ben Whalley and colleagues at the University of Reading to find a new anti-seizure medicine for people with epilepsy.
Dr Guy has been the physician in charge of more than 200 clinical studies, is an author on numerous scientific publications and has contributed to six books. He received the Deloitte Director of the Year Award in Pharmaceuticals and Healthcare in 2011, and was appointed Visiting Professor at the University of Westminster in 2016.
· Innovation in health is a key part of the University of Reading's 'Imagine' campaign. Imagine how you could help fight world health problems here.