'Be Red', Reading tells its students of tomorrow
Release Date 11 July 2016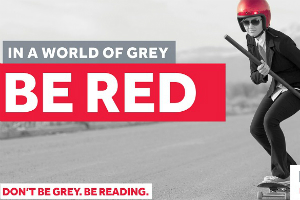 'In a world of grey, be red' is the University of Reading's bold message to its next generation of students in its new global recruitment campaign.
The campaign targets intelligent, ambitious and talented students daring them to be different and stand out from the crowd.
The Be Red campaign was launched last week will target major UK education and youth-focused online and social media.
For the new campaign, the University has made its next generation of bright and diversely talented students the focal point, challenging them to be unique in a creative, supportive and welcoming environment.
It follows the University's 'Are You Ready?' undergraduate campaign in 2013/14 and 2014/15 which drove record numbers of applications and acceptances to Reading in the last two years.
More than 15,500 visitors attended the University's Open Days in 2014 and 2015 while applications were up 14.4% in the past two years (2014-16), six times the 2.4% national average. Reading had six applications per place across the 250 available courses.
The University won gold for best student recruitment campaign at the Heist 2015 Awards for Education Marketing - the premier awards programme for marketing in the further and higher education sectors.
Bell Integrated Communications was honoured for its work with the University of Reading in the categories of Best Creative Strategy, Best Visual Identity and Best Brand Implementation at the Transform Awards Europe for Brand Presentation.
Reading was also named in the top ten universities in the Youth 100 in 2015 – the UK's top brands according to 3,500 18-24 year olds. Awareness and familiarity with the brand have both increased.
Gemmaine Walsh, Director of Marketing, Communication & Engagement at the University of Reading, said: "'Be Red' is the natural evolution of our message to our next generation of students.
"Our new campaign is bold and direct, focusing on our students of tomorrow and addressing the values, attitudes and beliefs of young people themselves.
"We are telling prospective students that we will always back their passion, drive and energy. We want students who stand out from the crowd and think for themselves.
"This campaign reflects our confidence as a University. Reading is no longer higher education's best-kept secret. We are proud of our students and staff, wherever they come from in the world. We do outstanding teaching and research, we generate jobs and growth and we have a global outlook.
"We are operating in a tough global market for students. Recruitment is a massive operation across the University – our job is to give our academic schools and departments the best possible platform to attract the brightest and best to their courses."
The University of Reading is ranked among the top 1% of universities in the world, with a reputation for research excellence, innovative teaching and links with business. Since its creation as a University 90 years ago, the University has helped to tackle some of the world's most pressing concerns. It now has campuses in the UK, Malaysia and South Africa, with 17,000 students from more than 150 countries. For more visit www.reading.ac.uk/about.
Register interest and find out more about the University of Reading's Open Days at www.reading.ac.uk/be-red.