Building work begins on Thames Valley Science Park
Release Date 14 July 2016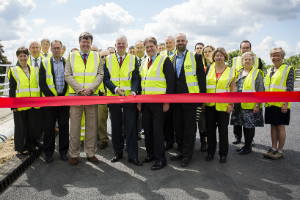 Major building work begins on the Thames Valley Science Park today as work starts on new offices, labs and conferencing facilities.
The £36 million Thames Valley Science Park, being developed by the University of Reading, will reinforce the already pre-eminent status of the Thames Valley as one of Europe's strongest knowledge economies and as a location for innovation and technology companies.
University Vice-Chancellor Sir David Bell was joined by local councillors, the board of directors for the Science Park, senior staff from the University and the Science Park's project team at a ground breaking ceremony for the Gateway Building - the first to be built on the 50-acre site.
The Gateway Building will be at the landmark entrance to the park which is aimed at attracting small and medium-sized innovation led and technology-based companies that are developing and delivering cutting-edge new products.
The Gateway Building, being built by GRAHAM Construction, will be completed by summer 2017 with the first tenants moving in by autumn 2017.
A ceremonial opening also took place for the new six-lane bridge over the M4, which provides access to the Science Park and the 1.8km Shinfield Eastern Relief Road. The new road will also help unlock land for over 2,400 new homes at the site.
Built by HOCHTIEF (UK) Construction and funded by a loan from the Homes & Communities Agency, the newly named University Bridge will be open to southbound traffic on Saturday 23 July. Once the southbound traffic is moved onto the new bridge, the remaining tie-in works will take place and the bridge will open to northbound traffic by late August.
Dr David Gillham, Director of Thames Valley Science Park, said: "Starting work on the Gateway Building is the first step in the University's ambitious long term vision.
"Thames Valley Science Park will generate jobs, promote innovation and stimulate growth while nurturing start-up business and helping small firms grow rapidly. We are proud to be investing in the region, a major powerhouse of the British economy."
When complete, the Thames Valley Science Park will provide 800,000 square feet of flexible laboratory and office space in a campus-style setting with a pedestrianised central concourse, providing space for up to 5,000 jobs.
Further information on Thames Valley Science Park can be found at www.tvsp.co.uk.