Philosopher and psychologist made Fellows of British Academy
Release Date 15 July 2016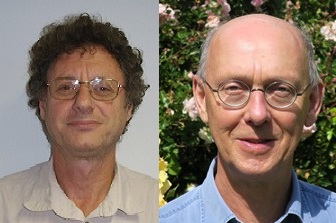 Two leading academics in philosophy and psychology have been elected as Fellows of the British Academy.
Moral philosopher Professor Jonathan Dancy and psychology Professor Peter Cooper have been elected to the fellowship of the British Academy for the humanities and social sciences, in recognition of their outstanding contribution to research.
Peter Cooper - Psychology
Peter Cooper, Professor of Psychopathology, is one of the leading clinical researchers in the UK and has worked at the University of Reading for three decades.
Professor Laurie Butler, head of the School of Psychology and Clinical Language Sciences, said: "I am delighted that Peter has been recognised by the British Academy for his outstanding contribution.
"Peter's work on anxiety and, more recently, cognitive and emotional development has positively impacted on the lives of countless children and their families worldwide."
Jonathan Dancy - Philosophy
Jonathan Dancy, Senior Research Professor at the University of Reading and Professor of Philosophy, University of Texas at Austin, is a leading English philosopher. A contributor to Reading Philosophy for twenty years, he has helped build its strong reputation as a centre of ethics and moral philosophy.
Professor Dancy said: "This is a considerable honour and a welcome recognition of a lifetime's effort. I am very grateful to Reading, and to my previous university, Keele University, for the support they have both given me to make this possible."
Professor Maximilian de Gaynesford, head of the Department of Philosophy, said; "Famously exact, with a fine ear for language, Jonathan has taught generations of students how to be precise and careful in their use of argument-often with a single pointed remark or meaningful look.
"Jonathan is the best colleague one could imagine, fiercely loyal and strongly encouraging, excellent in advice, forceful when sure something is wrong, transparently delighted when something is right. His colleagues in turn are absolutely thrilled that the British Academy has honoured him in this way."
The British Academy is one of the world's leading societies for the humanities and social sciences. Just 42 academics have been elected as new Fellows this year, in areas spanning the breadth of the humanities and social sciences, including law, linguistics, economics and history.