Hot enough to fry an egg? Weather experts comment on heatwave
Release Date 19 July 2016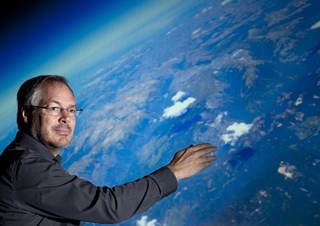 The University of Reading's Department of Meteorology is one of the leading centres for the study of weather and climate in the world. Reading has more than 200 research scientists working at the cutting edge of atmospheric physics, oceanography, space weather, and climate science.
Today is likely to be the hottest of the year so far in Britain. So what are the experts saying about the hot summer weather?
Watch live updates from the University of Reading's atmospheric observatory.
RECORD BREAKING HOT NIGHT
Dr Roger Brugge, a meteorologist at the University of Reading, said: "Tonight could feel uncomfortably warm and sticky, and could even break records.
"At the University of Reading, which has kept continuous daily weather records for more than a century, the record warm minimum temperature was on the night of 1-2 August 1995, when the mercury did not dip below 20.8 °C. The only other time we recorded a night when temperatures did not go below 20 °C was 4-5 September 1949. No July night has ever stayed above 20 °C.
"According to Met Office figures, the highest minimum temperature ever recorded in the UK was 23.9 °C in Brighton on 3 August 1990.
"After lots of sunshine, light winds and high pressure today, the temperature could stay as high as 21 °C, which would be the hottest night on record for Reading.
"By way of comparison, last summer we experienced temperatures of 33.5 °C in Reading - but no night remained above 18.5 °C."
HOT ENOUGH TO FRY AN EGG
Dr Peter Inness, a meteorologist at the University of Reading, said:
"This hot spell is being caused by high pressure, lots of sunshine and light southerly winds bringing warm air in from Europe.
"The air temperature is likely to go above 30 degrees Celsius in many places. Continuous sunshine and light winds mean that the temperature of the ground, even on bare soil or grass, will get even higher.
"Anyone wanting to know if you can fry and egg on the pavement should keep an eye on the live weather readings from the University of Reading's atmospheric observatory (http://www.met.reading.ac.uk/weatherdata/Reading_AWS_weather_report.html).

"When the temperature reading from a concrete surface reaches 55 degrees, it's just about hot enough to fry an egg - very slowly."
AIR POLLUTION
Dr Helen Dacre, a meteorologist and air pollution specialist at the University of Reading, said: "While hot, settled weather sometimes leads to poor air quality, the pollution forecast isn't too bad for most of Britain this week.
"Ozone levels for Tuesday and Wednesday are moderate across the UK, with slightly higher values along the east coast. These moderate levels are due to locally produced ozone and a small amount of ozone blowing in from near continental Europe.
"Ozone is formed from atmospheric oxygen in the presence of nitrogen oxides and volatile organic carbons, such as from fuel combustion, plus sunlight. High ozone episodes occur during periods of prolonged warm sunny weather and therefore are most frequent in the summer months. They can cause health problems, particularly for people with pre-existing conditions like asthma."
HEATWAVE HEALTH WARNINGS
Dr Helen Dacre, University of Reading, said: "Heatwaves can be lethal. In the summer of 2003, hundreds of people in the UK died as a result of the prolonged hot weather. Climate change is making these events more likely in the years ahead.
"At the University of Reading we have been developing a revised health forecasting system, in collaboration with the Met Office and Public Health England. This new system produces colour-coded warnings of periods in which the impact of extreme weather on human health is predicted to be high. It is currently in testing.
"The revised system produces warnings based both on the potential impact of the extreme weather conditions on human health and on their likelihood. By adopting this risk- likelihood approach we have been able to explicitly incorporate the uncertainty inherent in weather forecasts into the health warning system. The revised system also offers users a detailed view of regional variations in alert levels, to allow them to plan resources more effectively.
"We believe the system will give hospitals and nursing homes more advance warning of potentially dangerous heatwaves, so they can take precautions against heat-related illness, and hence save lives."