Museum of English Rural Life undergoes £3m redevelopment
Release Date 20 July 2016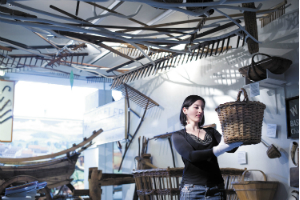 Visitors to the Museum of English Rural Life (MERL) will benefit from a £3 million project to radically transform it.
The redevelopment of the UK's first and most extensive museum dedicated to agriculture and rural life, will create an enlarged education studio, an open access collections area and new features in the garden including a shepherd's hut and community growing spaces.
Based on the University of Reading's London Road campus, the MERL redevelopment programme which includes £1.8 million from the Heritage Lottery Fund, will see the museum reopen on 19 October.
Housing an internationally recognised collection of over one million items, the museum was established in 1951 and grew out of the University of Reading's long tradition of academic excellence in agriculture.
Designed by Pringle Richards Sharratt Architects with Studio GuM, the museum reopens with 341m2 of additional space including a gallery, social learning space developed in partnership with students from the University of Reading, shop and reception area.
The museum has also radically transformed its public displays, with nine new galleries curated around the concept of our country lives. Each gallery explores a different theme including making rural England, a year on the farm, forces for change and wagon walk & digging deeper. Interactive, immersive displays explore questions of identity, environment, technology, culture and health, and aim to challenge perceptions about rural England by revealing the historical and contemporary relevance of country life.

Our country lives weaves stories, memories, archive film and photographs from rural lives through new displays which aim to revitalise the way visitors engage with the museum's extraordinary collections and show how this can deepen engagement with today's countryside. They will offer new perspectives on how agricultural tools and machinery, wagons, ploughs and traditional crafts such as woodturning, hurdle-making and thatching, baskets, strawcraft and leatherwork formed the essential fabric of rural lives. Visitors will be asked to contribute ideas on what should be collected today, inspired by agricultural events attended by the museum in the 1950s.
Penny Richards of Pringle Richards Sharratt Architects, said: "Our vision was to create opportunities to explore the collection through a series of interpretive ideas and themes. Each is contained within a newly created architectural space, providing a stimulating visual experience and showing the collection in an innovative and intriguing way."