Reading in the news - Fri 22 July
Release Date 22 July 2016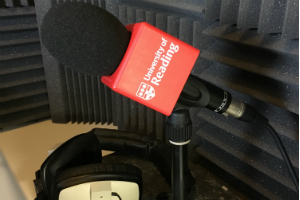 Here's Friday's summary of media coverage for the University of Reading.
Reading International art project: BBC News and The Guardian report news that the University is leading a project to bring world-class art to Reading. Also covered at BT.com, Littlehampton Gazette, and further regional and consumer titles.
Prof Susanne Clausen (Art) explained more about the Reading International project on BBC Berkshire. Read our news story.
Thames Valley Science Park: Motorists could experience delays while resurfacing work takes place on University Bridge, the entrance to Thames Valley Science Park and a local relief road. The news is reported on BBC Berkshire.
Antarctica: Dr Ed Hawkins (Meteorology) discusses the cooling in temperature of the Antarctic Peninsula in the Oman Observer.
Health: Dr Gemma Walton (Food & Nutritional Sciences) co-authors an article on how athletes going to the Olympics can avoid sickness and diarrhoea affecting their performance. The article is at Lifehacker (Australia).

Other topics:
Robot wars: Visiting professor of cybernetics Kevin Warwick speaks to BBC Berkshire about the return of Robot Wars to the BBC.
Pokémon Go: BBC News reports that the University is using the augmented reality game Pokémon Go to attract people to its online courses. The story is also reported on BBC Berkshire and is publicised on the University's Twitter feed.
Henley Business Africa: Dean of Henley Business Africa Jon Foster-Pedley discusses the growing revenue of business schools at Financial Mail.
Omega 3: Dr Alister McNeish (Pharmacology) comments on a study on the effect of omega-3 fatty acid intake on survival after colorectal cancer in the World Weekly.
Farming: The origins of the world's first farmers are discussed by Prof Roger Matthews (Archaeology) at Seeker.