Reading in the news - Fri 29 July
Release Date 29 July 2016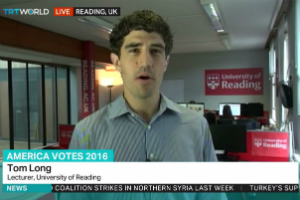 Here's Friday's summary of media coverage for the University of Reading.
Turkey: Emeritus Professor Shirley Williams and Prof Clare Furneaux (Teaching and Learning Dean) are co-signatories of an open letter in The Telegraph, urging the Turkish government to allow academic freedom in Turkish higher education institutes.
US elections: Dr Tom Long (Politics & International Relations) spoke to Turkey's international news channel TRT World on the upcoming task facing her if she is to become President.
Climate change: A graphic created by Dr Ed Hawkins (Meteorology) illustrating the change in global temperatures since 1850, has become a popular method of demonstrating different aspects of climate change among climate scientists, reports The Washington Post.
Other topics:
Thames Valley Science Park

: News that construction has begun on the new Gateway Building at Thames Valley Science Park is covered at Insider Media and Reading: UK (in print).

Dinosaurs

: Research by Dr Manabu Sakamoto (Ecology & Evolutionary Biology) on the decline of dinosaurs is mentioned in the Luxemburger Wort (article in German). Read our news story.

Arctic sea ice

: Dr David Schroeder (Meteorology) discusses a model he has helped develop to monitor sea ice in the Arctic at News Deeply.