University chef wins British BBQ Battle final
Release Date 20 June 2016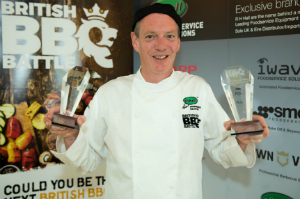 University of Reading chef Martin Wheeler has won the 2016 British BBQ Battle competition.
Father-of-three Martin, who lives in Reading, overcame competition from eight chefs who work across different areas of the food industry.
The final at Blenheim Palace in Oxfordshire on Wednesday 15 June saw Martin win over £15,000 worth of catering equipment from competition sponsors, a top of the range barbeque and accessories pack, plus £100 vouchers.
Each finalist had to prepare a three course meal using a barbeque as the main method of cooking. Each menu was cooked live in front of an audience, before being presented to a panel of four judges.
Martin put together an innovative menu for the final. His starter consisted of Applewood smoked eel served with an apple and celeriac slaw. For main course, he served a Hogget shish, served on a beetroot flatbread with crispy kale and baba ganoush. His choice for dessert was a Lamington, served with grilled mango and a Pina Colada sabayon.
Martin said: "It is a fantastic victory. To cook with seven of the best chefs from across the food industry is itself a matter of pride, but to be crowned the best among them is great."