Thames Valley Science Park future plans go on display
Release Date 28 June 2016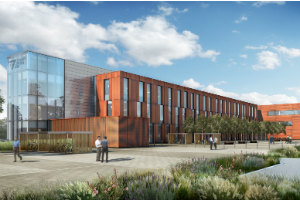 Ambitious plans for the next phase of Thames Valley Science Park will go on display at an open evening next week.
The Science Park, being developed by the University of Reading, will reinforce the already pre-eminent status of the
Thames Valley as one of Europe's strongest knowledge economies and as a location for innovation and technology.
The University announced its intention to develop the Science Park in 2013 and construction commenced on the first phase of the development on land adjacent to the M4, south of Reading earlier this year.
Proposals for the development of the complete site will be showcased from 4-8pm on Tuesday 5 July at Shinfield Grange, Cutbush Lane, Shinfield, West Berkshire, RG2 9AF.
Dr David Gillham, Director of Thames Valley Science Park said: "We have had a great deal of interest in the first phase of development at the Thames Valley Science Park and these plans will enable us to fulfil our ambitious vision and one we believe will bring huge benefits to the wider area."
The Thames Valley Science Park will eventually provide 800,000 square feet of flexible laboratory and office space in a campus-style setting with a pedestrianised central concourse and provide up to 5,000 jobs at companies based on the Park when finished.
The open evening will give residents the opportunity to see plans for an exciting and innovative environment for new and emerging science and technology based businesses.
More information on the open evening can be found at www.tvspconsultation.co.uk or by calling 0800 148 8911.
Further information on Thames Valley Science Park can be found at www.tvsp.co.uk.